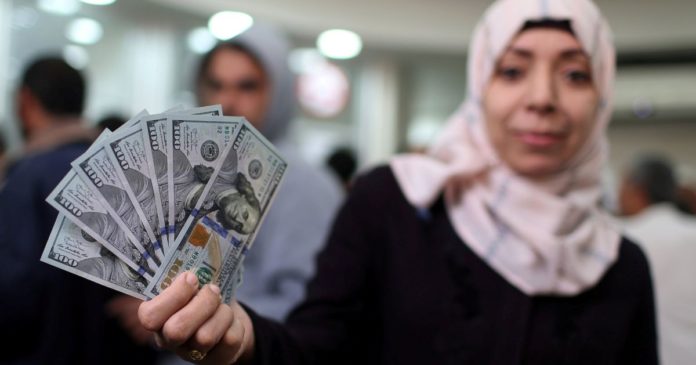 A few hours after it was reported that Qatari money had entered Gaza, it was being distributed as early as the same morning. According to the Palestinian media, every needy family receives $100.
The Qatari money has arrived in Gaza after the Palestinian media reported overnight that Qatar had transferred $30 million to Gaza as part of the implementation of the understandings between Israel and Hamas in Gaza.
According to the Hamas media, in the first wave of distribution, every needy family in Gaza will receive $100. The second wave of distribution of funds will be channeled through Palestinian post offices scattered throughout Gaza. At the same time, UN envoy to the Middle East Nickolay Mladenov entered the Gaza Strip via the Erez crossing, thereby joining the Qatari envoy Muhammad al-Amadi, who is already in Gaza and earlier transferred the money himself.
According to the Palestinian media, Al-Amadi is the one who brought the $30 million with him, as part of the sum that is supposed to go directly to Hamas and another part will be channeled to UN projects through the mediation of Mladenov. The transfer of money is added to a series of economic easements to the Gaza Strip; including expanding the fishing area and introducing fuel for the operation of the power plant in Gaza.
On Sunday, the IDF decided to reopen the crossings to Gaza following last week's reopening of Gaza's fishing area as part of Israel's efforts to prevent a humanitarian deterioration in Gaza.
A statement issued by the COGAT (Coordinator of Government Activities in the Territories) headquarters stated that the Erez and Kerem Shalom crossings will be opened and functioning as scheduled, "according to the fixed hours of operation." The crossings, as well as the fishing area, were completely closed in the last round of fighting that ended a week ago. COGAT said that "this step is part of the civilian policy to prevent deterioration and a policy that distinguishes between terror and an uninvolved population."
Prior to the opening of the fishing area, the IDF made it clear that the implementation of the move would depend on the fact that the fishermen in Gaza would honor the agreements reached, stressing that no deviation would be allowed, and that any deviation from the fishermen in Gaza would be handled accordingly by the Israeli security forces.
(YWN Israel Desk – Jerusalem)