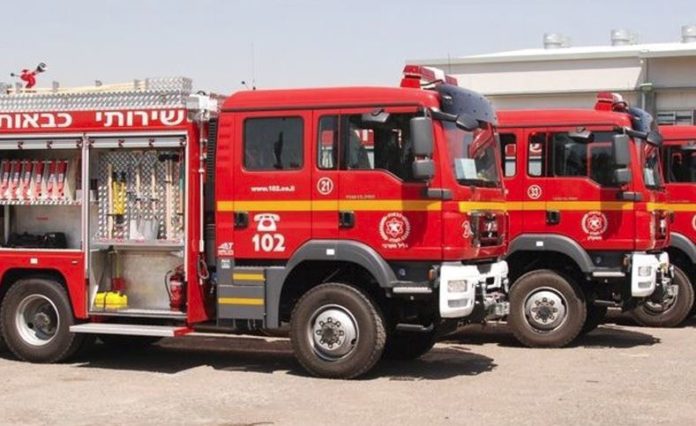 On Wednesday, Israel Police detained minors from Elad on suspicion of starting fires in open areas near the city.
In recent days, the Israeli police received several reports of fires in open areas in the city of Elad. An initial examination of the incidents revealed that some minors who were residents of the city had set fires, only to see the fire trucks arrive and extinguish the fire.
In the wake of these incidents, and a focused operational activity by the Israel Police, police detained a 14-year-old boy and his father, bringing them in for questioning, and they were warned about attacking firemen and throwing stones at them.
[Police Enter Meah Shearim in Attempt to Arrest Suspects For Vandalizing Firetruck on Yom Ha'atzmaut]
Later, three other minors aged 10-12 were detained for questioning. After the minors and their parents were warned, they were all released.
The Israel Police calls upon the parents to "take care of your children and do as much as possible to prevent them from being involved in arson, which harm not only the environment but can cause real harm to those involved."
In recent days there have been several incidents in Jerusalem, Elad and other places, in which chareidi children have attacked firefighters who came to do their jobs.
[Firefighters Assaulted By Chareidi Extremists While Putting Out Fire in Elad; Were Spit, Cursed, Stones Thrown On]
The last case took place last night in Jerusalem's Givat Shaul neighborhood – where, as in other cases, these are not children from extremist families.
Senior officers in the fire department summarize the events in a short sentence: "It all depends on education from home, and if the parents invest in the matter with their children, the ugly phenomenon will stop."
(YWN Israel Desk – Jerusalem)