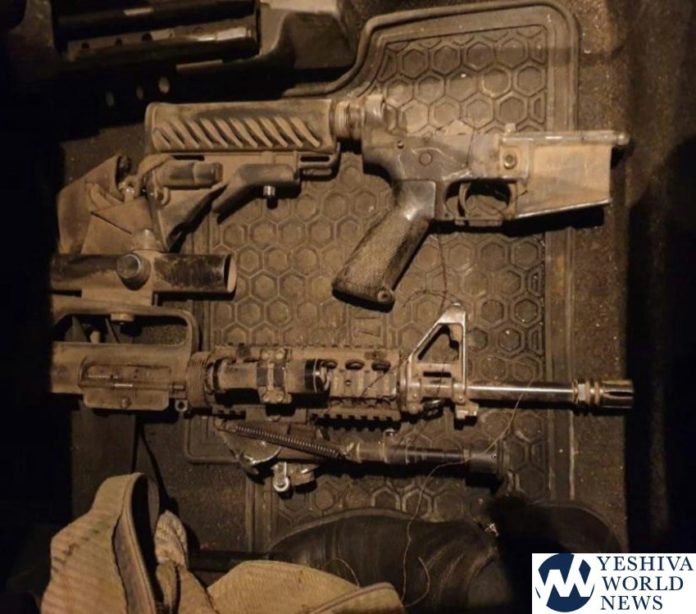 A series of shooting attacks carried out in the Ramallah area over the past few months have been solved.
Intelligence gathered by the ISA (Israel Security Agency/Shin Bet) pointed to the involvement of Zakariya Zubeidi and Tareq Barghout in a series of attacks in the Beit El area.
The two were arrested on February 27, 2019 during an operation by the Shin Bet.
Those involved:
Zakaria Zubeidi, 44, who lives in the Jenin refugee camp, holds a senior post in the PA (Palestinian Authority) Ministry for Prisoner Welfare. Zubeidi was a senior terrorist operative in Yehuda and Shomron and was counted among those on 'terrorist agreement' reached with Israel in 2007 in which the signatories committed to refrain from any participation in acts of terror or other illegal activities in exchange for the IDF stopping to hunt him down.
Needless to say, Zubeidi flagrantly and violently violated the commitment and was involved in several terrorist attacks after he undertook to cease all terrorist activities.
According to the policy of the security forces, if a terrorist violates the agreement, they will apprehend him and use the full weight of the law against him, including acts committed prior to the signing of the agreement.
Tareq Barghut, also 44, is a resident of Ramallah and holds a blue Israeli identity card, which facilities his entry to 'Israel proper'. He is also an attorney and member of the Israel Bar Association, one who regularly represents imprisoned terrorists in Israeli and IDF military courts.
The ISA investigation revealed that the two carried out two shooting attacks, on November 7, 2018 and January 5, 2019, targeting buses traveling on the route adjacent to Beit El.
The two used Zubeidi's official PA (Palestinian Authority) car to carry out the attacks. As part of their preparations for the attacks, they carried out inspections of the area designated for the attack, monitored the targets, and gathered intelligence information.
They also committed a shooting attack on December 27, 2018, targeting a bus that was on the access road to Yishuv Psagot, in the Binyamin Regional Council district. However, they missed the bus B'chasdei Hashem due to weather conditions. Another bus heading to Psagot was also targeted by them on February 19, 2019.
The ISA spokesman unit reveals that Bargout admits to yet another shooting attack, on November 19, 2016, when he targeted a police vehicle at the HaZeitim Crossing near Jerusalem. The attack resulted in damage but not injuries or fatalities.
Security officials have uncovered a M16 assault rifle as seen in the accompanying photo.
(YWN Israel Desk – Jerusalem/Photo Credit: ISA Spokesman Unit)