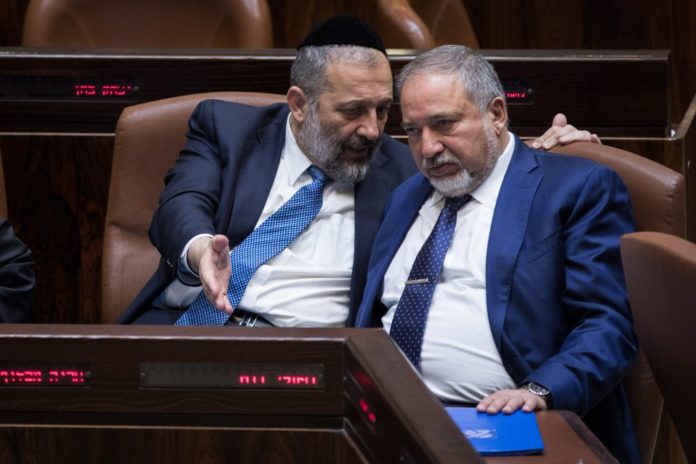 The longtime friendship between Shas Chairman Aryeh Deri and Yisrael Beitenu Chairman Avigdor Lieberman seems to have vanished as Lieberman speaks out harshly against his former political ally.
Lieberman was hosted in the Ynet studio and he did not hesitate in his attack against the Shas leader regarding the Oslo Accords, eliciting the ire of Shas faction members.
Shas officials insist that "Lieberman in lying" when he says the Oslo Accords passed as a result of Shas' support. Shas officials explain that the party broke away from the Rabin-led government in September 1993, because of the signing of those agreements. "Lieberman's entire political life consists of zigzagging between left and right, and he prefers to level accusations towards forgetting that it was he who put forward bizarre solutions from the beis medrash of the left-wing extremist camp, the return of Wadi Ara communities to the Palestinian Authority along with areas of East Jerusalem towards establishing the capital of Palestine.
"Lieberman is left-wing, and two weeks ago, prevented the establishment of a right-wing coalition, dragging Israel to needless elections and if it were dependent on him, he would crown a left-wing government, just because of his burning hatred and envy of Binyamin Netanyahu".
"Lieberman has been considered a close friend of the chareidi parties for the past few decades, mainly Shas. Shas and Yisrael Beiteinu, headed by Lieberman, worked together in the government and in hundreds of political collaborations on the national level and in local authorities throughout the country. The last of these was the close collaboration between Moshe Leon for mayor of Jerusalem. Lieberman is not anti-chareidi. He is a man without principles. Today like this, and tomorrow another person".
(YWN Israel Desk – Jerusalem)