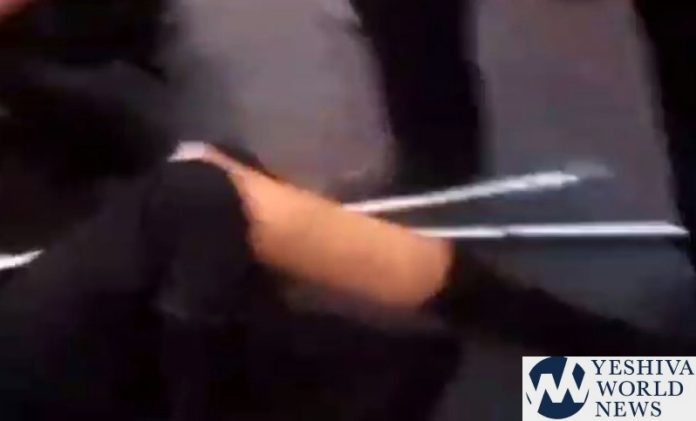 As YWN has been reporting, there has been Hafganos in Kikar Shabbos and the Bar Ilan intersection in Yerushalahim on Monday afternoon and evening. Simultaneous with the evening protest in Yerushalayim, there was a Hafganah held in Beit Shemesh.
Eyewitnesses report that an elderly Chareidi man with a prosthetic leg was walking past the protest on the sidewalk when Police began pushing and shoving the crowd. Protesters began warning police that the man was crippled and had a fake leg and was being dangerously shoved. According to multiple eye-witnesses as well as lots of video documentation, police seemed to ignore all warnings, and began pushing the man, shoving him to the floor. He was then violently dragged by police officers, causing his prosthetic leg to fully detach.
Israel Police told Bichadrei Chareidim that "a preliminary investigation shows that the victims is not innocent man who happened to pass by, but belonged to the protest. As soon as police saw that he was disabled, they rushed to his aid".
UPDATE 6:30PM ET: Police have released footage showing the man sitting in the middle of the street with other protesters, deliberately blocking traffic. In the footage below, you will see police warning the protesters to go out of the street before they will be arrested.
This is similar to the recent brutal beating of an autistic Chareidi teen in Yerushalayim on Lag Baomer, who police said pushed an off-duty policewoman. Despite video footage showing otherwise, and despite multiple cries and pleading from bystanders that the boy was autistic, police chose to violently arrest him, smashing his face into the concrete pavement causing him facial trauma. That incident is still under investigation.
(YWN World Headquarters – NYC)