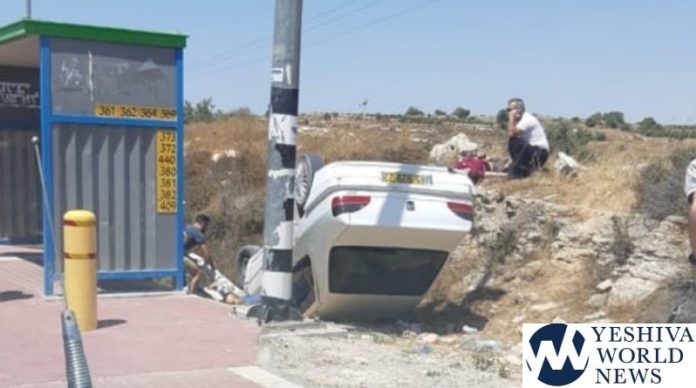 Officials in Hadassah Ein Kerem Hospital in Jerusalem report that the 17-year-old victim of the Gush Etzion ramming attack remains in serious condition, but is showing very slight improvement. The tzibur is asked to continue being mispallel for Nachum Elimelech ben Zahava Rivka bsoch cholei yisrael.
Nachum and his sister Na'am Aliza were injured in a vehicular ramming attack that occurred on erev Shabbos in Gush Etzion, near Yishuv Elazar.
Na'am, who was moderately wounded in the attack, was moved from Shaare Zedek Hospital to Hadassah to make it easier for family members to visit the siblings.
The siblings were making their way to a bus stop but were hit before getting there. Nachum spent the days prior to the attack in the north with family members as part of his vacation after being accepted to an elite IDF unit. He was called to a meeting in the center of the country. Na'am is serving in Sheirut Leumi and the two were hoping to head back to the north for Shabbos where the family was waiting for them.
*****PLEASE NOTE – YWN IS GIVING AWAY $5,000 CASH – JUST SIGN UP TO FOLLOW YWN WHATSAPP STATUS AND GET THE DETAILS!***** Make sure you are one of the more than 20,000 that signed up to YWN WhatsApp Status to receive news in live time. Click this link – or send a message to 1-888-4-YW-NEWS (888-499-6397) – to see our status posts*****
(YWN Israel Desk – Jerusalem)