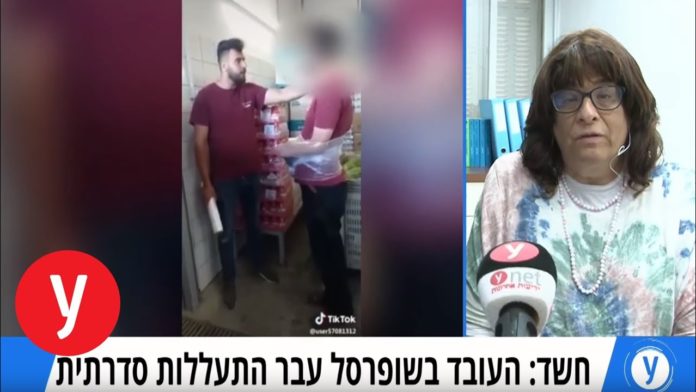 Chaya Blau, the mother of the Charedi employee with special needs who was assaulted by his fellow employees at a Shufersal (Supersol) supermarket in Gush Etzion was interviewed on Wednesday by the Israeli news outlet Ynet. Attorney Itamar Ben-Gvir (chairman of the Otzma Yehudit party), who is representing the family was also interviewed.
The Ynet host began the interview by mentioning the unfortunate fact that the police investigation has uncovered several other videos documenting further incidents of abuse of the Chareidi man, negating the employees' claims that the first video was "a joke." On Tuesday, the court extended the remand of the Arab workers and the Jewish warehouse employee suspected of involvement in the abuse. On Wednesday morning, the police announced that an additional suspect, an Arab resident of east Jerusalem, had been arrested on Tuesday evening.
"We were horrified when we saw the video – completely shocked," Blau said. "I cried and felt helpless. I felt horrible. How could they do such a thing to a vulnerable person? How can people think that they can do what they want? I'm speechless."
Blau reverted to her native English to say, "With such friends, who needs enemies?" Blau, who subsequently translated the phrase into Hebrew, was apparently referring to the fact that the Arab suspects claimed that "we're friends and it was just a joke."
The Ynet host asked Blau if her son understands what's going on. "He understands," Blau replied. "He's suffering and I'm hurting. Slowly, he's understanding more. We were by him on Thursday afternoon, before the video came out. When we came, he was lying in bed and didn't want to talk to us. He didn't even want to look at us. He only wanted us to leave him alone. It's been bothering him but he didn't tell us. He didn't express what was bothering him."
Blau says she has no doubt that the abuse was based on nationalistic motives. "I have no doubt that it was nationalistic abuse. I saw how they humiliated and ridiculed him and made him repeats words that they said."
*****PLEASE NOTE – YWN IS GIVING AWAY $5,000 CASH – JUST SIGN UP TO FOLLOW YWN WHATSAPP STATUS AND GET THE DETAILS!***** Make sure you are one of the more than 20,000 that signed up to YWN WhatsApp Status to receive news in live time. Click this link – or send a message to 1-888-4-YW-NEWS (888-499-6397) – to see our status posts*****
Ben-Gvir added, "According to what he told me, [the Arab employees] were mocking the Jewish people. They posted the video to their entire village."
Blau said regarding the emotional damage her son suffered due to the abuse. "We're investing a lot of him. We want him to function normally as much as possible within the community. He works with people, he lives with people. He's not in a hostel. He lives alone. We want him to be independent and this story sets him back several years."
Ben-Gvir expressed his dismay that Jews were involved in the incident as well, a reference to the supermarket manager who was aware of the abuse but failed to report it as well as a Jewish warehouse worker who was at least aware of the abuse and remained silent. It's unknown at this time if he actually had an active part in the abuse.
"We will not be silent, Ben-Gvir said. "We intend to file a claim against Shufersal for millions. They need to pay compensation for damages, abuse and humiliation."
Judge Oren Silverman stated that "physical and emotional abuse of a vulnerable person and assault are the main offenses. Both sides tried to blame the incident on political factors but ultimately the focus is on the above offenses."
(YWN Israel Desk – Jerusalem)