Terror victim Dvir Shnerb was B'chasdei Hashem released from Hadassah Hospital on Monday. Dvir, 19, survived the terrorist attack in which an IED exploded as he, his father Rav Eitan, and his sister Rina, HY"D, were walking near the Bubin Spring in proximity to Yishuv Dolev, in the Binyamin Regional Council of Shomron.
Dvir was treated at Hadassah, and B"H now released to his home. His sister Rina, 18, was R"L murdered in the attack. Their father, Rav Eitan Shnerb, was also injured in the attack, which took place on Friday, August 23, 2019.
In the accompanying video, Dvir thanks everyone who played a role in his care following the attack, from the emergency medical personnel to all the hospital staff members.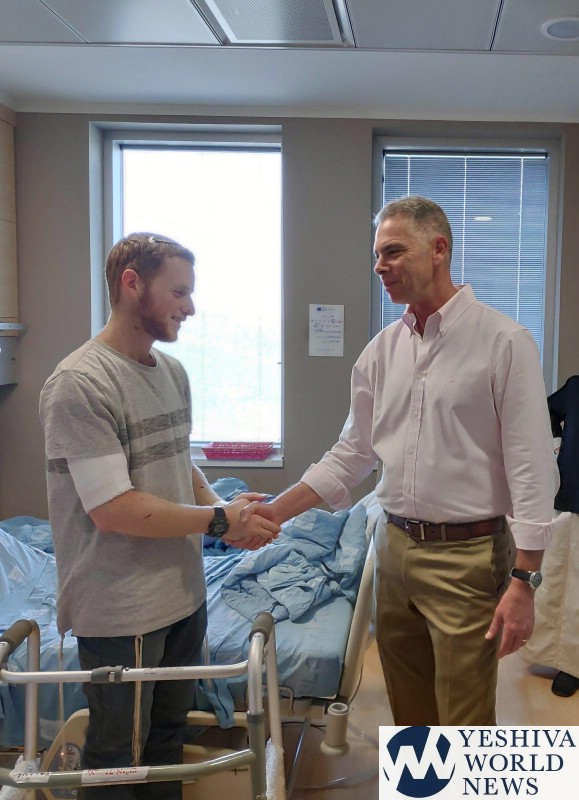 *****PLEASE NOTE – YWN IS GIVING AWAY $5,000 CASH – JUST SIGN UP TO FOLLOW YWN WHATSAPP STATUS AND GET THE DETAILS!***** Make sure you are one of the more than 20,000 that signed up to YWN WhatsApp Status to receive news in live time. Click this link – or send a message to 1-888-4-YW-NEWS (888-499-6397) – to see our status posts*****
(YWN Israel Desk – Jerusalem / Photo & Video Credit: Hadassah Hospital Spokesman Unit)