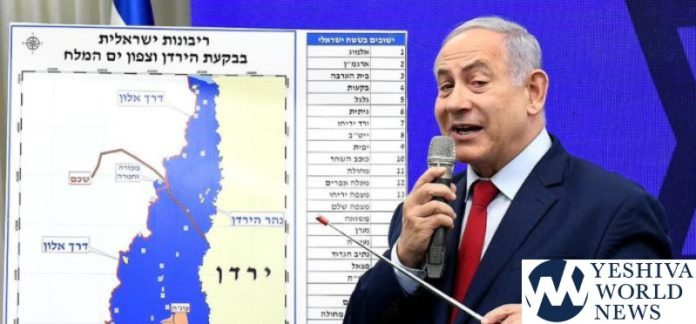 It is imperative for voters to clearly understand that Prime Minister Binyamin Netanyahu during his dramatic statement to the press on Tuesday afternoon chose his words very carefully. Yes, he began with an announcement of annexing Yehuda and Shomron as was done in the Golan Heights by Israel years ago, but as he continued, he began to carefully clarify his remarks.
One may begin by asking what prompted this sudden burst of right-wing patriotism. One may opine that the prime minister is quite pressured, realizing when he decided to dissolve the 21st Knesset and call for early elections, he was confident of his reelection. However, recent polls, including the final poll released on Tuesday ahead of next week's election shows the Blue & White party remains ahead by one seat, with 32, as compared to Likud's 31. The political climate is such that PM Netanyahu is aware that he may not receive the presidential mandate to form the next coalition, and clearly, he is worried.
During his Tuesday address, Netanyahu repeated over and over again the need to vote for Likud to give him a strong mandate, so he can implement his new planned declaration of sovereignty, pointing out that if Blue & White is elected, the party plans to evict 80,000 residents from communities throughout Yehuda and Shomron.
Some of the points that many missed in the address include:
• Nothing will be done until US President Trump reveals his Deal of the Century peace plan, which is expected to be revealed shortly following elections.
• The annexation in stage one will be over the Jordan Valley and Dead Sea areas, and NOT Yehuda and Shomron.
• Mr. Netanyahu said one time during his address that the annexation of Yehuda and Shomron will be "if it is doable" and "I will do my best", "dependent on the position of the United States" and therefore, he has already created the 'way out' of making good on this, simply stating "I promised, but the US administration is adamantly against it".
The annexation of the Jordan Valley and Dead Sea would be a welcome move for the right-wing camp, and a death blow to peace efforts for the left-wing camp, but what occurred on Tuesday afternoon was not a major policy statement but simply an election bid from a worried prime minister who seeks reelection.
Netanyahu hopes his words will bring voters from Yemina and Otzma Yehudit to Likud towards giving him the lead and the ability to form another right-wing government.
(YWN Israel Desk – Jerusalem)