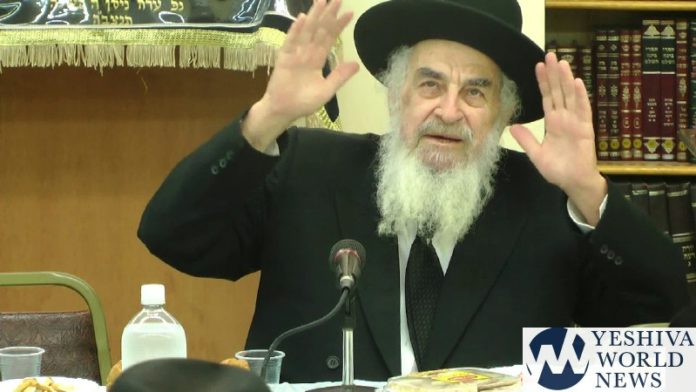 HaGaon HaRav Eliyahu Landau Shlita, a Rosh Yeshiva in Kfar Chabad's Tomchei Temimim Yeshiva, hinted to his talmidim that since Chabad does not involve itself in politics, the rabbonim are not recommending voting for a specific party. However, the rav, a son of the late Chief Rabbi of Bnei Brak, HaGaon HaRav Yehuda Leib Landau ZT"L, explained "We are in an unprecedented religious war and there are unprecedented efforts taking place in Israel to increase hate for Yiddishkeit.
According to a COL report, the rav pointed out, "The Rebbe instructed us to vote for the most chareidi party. How can one vote for a party headed by a woman who openly admits to not being religious? One must vote for the most chareidi party!"
Clearly, the rav instructs his talmidim not to vote for the Yemina party because it is headed by Ayelet Shaked, who is not Shomer Shabbos.
The rav continued, adding, "One who votes for a party that may or may not pass the minimum electoral threshold (Otzma Yehudit) – is in fact casting a ballot for the Sitra Achra and the haters of religion".
Rav Landau continued to direct his talmidim without mentioning parties by name. "If Porush and Litzman invite you for a Shabbos meal as well as the head of the Yemina party, whose home will you go to?"
As reported by Chareidim10 News, the Beis Din Rabbanei Chabad in Eretz HaKodesh, the official highest halachic body in Chabad in Eretz Yisrael, over the weekend released a letter stating one may not vote for a party which may not pass the minimum electoral threshold to avoid wasting votes.
The rabbonim are aware many Chabad Chassidim are planning to vote for the Otzma Yehudit party due to its religious and right-wing orientation, but here, Rav Landau and the beis din are instructing chassidim not to vote for the party.
It is added that in the last three election polls before elections, Otzma Yehudit passed the minimum electoral threshold, thereby entering Knesset with four seats, but this does not seem to have changed the opinion of the Chabad Beis Din.
(YWN Israel Desk – Jerusalem)