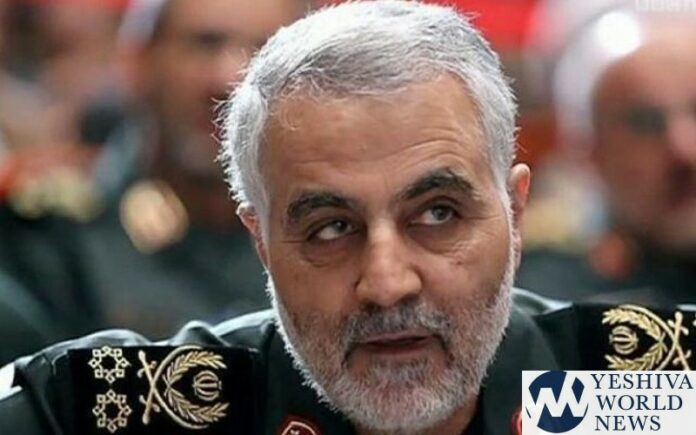 The head of intelligence in the Iranian Revolutionary Guard announced thwarting an attempted assassination of the commander of the 'Quds Force', Qassam Suleimani.
The commander of intelligence in the Revolutionary Guard, Hussein Taeb, announced Thursday that Iran has succeeded in foiling an attempt to wipe out Suleimani, the 'Quds Force' commander.
Suleimani is responsible for the Revolutionary Guards activities outside the borders of Iran, and is leading its consolidation in Syria, Lebanon, Iraq and other countries.
According to reports in the Iranian media, the Revolutionary Guard reports this was an Israeli-Arab assassination attempt, and that the members of the squad were apprehended and arrested.
Taeb claims the members of the squad buried 500kg of explosives in a tunnel under Hosniya, a Shiite religious site erected in memory of Suleiman's father. It was to be blown up during a memorial service for his father.
Taib added, "In this heinous act, they intended to start a comprehensive religious war between Muslims and to accuse Iran of starting it.
In a rare interview that he granted earlier this week, Suleimani stated that Israel tried to eliminate him using an unmanned aerial vehicle (UAV) during his visit to Lebanon in 2006 during the Second Lebanon War, after meeting with Hezbollah leader Hassan Nasrallah.
"Hezbollah has a command in the Dahiya region of Beirut, and the surrounding buildings were bombed every night. One night, I was worried that there was a danger to Nasrallah's life and decided to move him somewhere else".
According to him, the unmanned Israeli UAVs hovered over our heads in Dahiya and monitored all the movements in the area. We decided to move to another building not far away and then Israel attacked. I was with Nasrallah and Imad Mughniyeh. We were sure Israel was going to attack the building we were in too".
(YWN Israel Desk – Jerusalem)