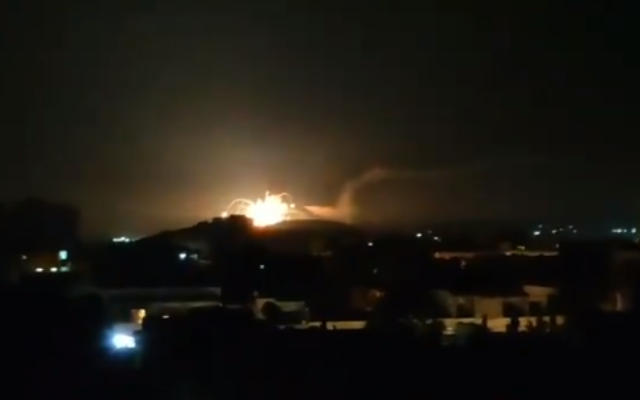 Israel targeted dozens of Iranian militia targets in Syria in the latest round of retaliatory strikes. The airstrikes were carried out in response to the firing of four rockets to the Golan Heights at about 5:00AM Tuesday morning. The rockets were intercepted by the Iron Dome rocket defense system.
A Britain-based war monitoring group said the strikes killed at least 23 people, including 15 non-Syrians, some of them Iranians. Syrian state media only reported that two civilians were killed.
Russia calls the attacks "the wrong move".
An Israeli security official said that "about 1:15AM, the IDF carried out a relatively extensive attack, perhaps the most widespread in relation to Iranian targets in Syria. The main aim was to hit Iran. We attacked six Syrian anti-aircraft batteries. We attacked the positions in the Syrian Golan with fighter helicopters. There are causalities, and we estimate, with caution, that Iranians have also been killed. This action is not necessarily to restrain the Iranians, but we will know that in the coming days."
Among the targets hit were military headquarters and observation posts, structures of the Syrian and Iranian al-Quds Force, and several Syrian air defense batteries were destroyed.
Defense Minister Naftali Bennet on Wednesday morning released a statement saying "If they attack us during the day, they will not sleep at night", citing "the rules have changed", clearly signaling to Iran the current administration is toughening its position regarding any and every attack since Bennet assumed the role of the nation's defense minister.
The following video shows the Israeli airstrikes against Iranian targets in Syria.
(YWN Israel Desk – Jerusalem)