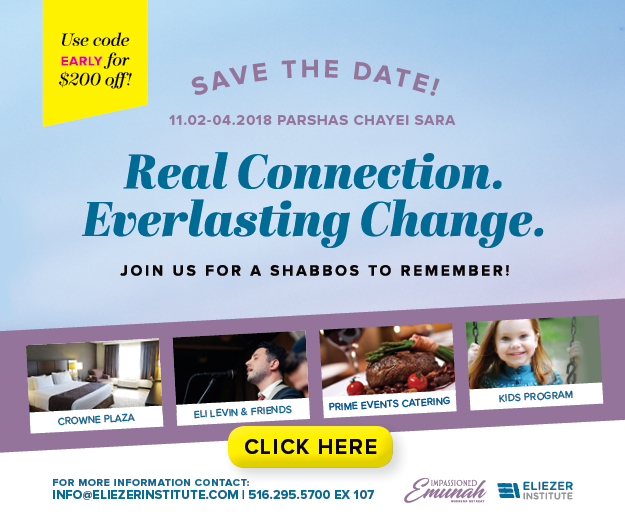 With its remarkable debut last year, the Impassioned Emunah weekend getaway has become one of the most anticipated events of the year. A forum for dynamic Rabbanim and educators at the forefront of our community, the event gives you the opportunity to be a part of an immersive, vibrant Shabbos experience. It will be a weekend to remember, as you engage in stimulating question and answer panels, enjoy the luxurious environment and gourmet cuisine, all while focusing on building a passionate relationship with Hashem and strengthening your Emunah and Bitachon.
The Topics:
Bitachon: Daring to Dream; Raising Healthy Children; Why My Actions Make a Difference; Putting Our Yiddishkeit in Context; Relevant Lessons from the Kiruv Trenches of Germany; Making Judaism Impassioned Again
The Speakers:
Rabbi Shaya Cohen, Rosh HaYeshiva, Yeshiva Zichron Aryeh; Founder of Priority-1
Over the past 30+ years, Rabbi Cohen has helped thousands of struggling teenagers and has been a trailblazer in addressing the issues within our community.
Rabbi Aryeh Z. Ginzberg, Rav, Chofetz Chaim Torah Center
A prominent author and Posek, Rabbi Ginzberg is a charismatic and prolific lecturer who is constantly sought after for his insight and guidance.
Rabbi Yinon Kalazan, Lecturer, Arachim
Rabbi Kalazan is a dynamic lecturer who has spread the truth and beauty of the Torah for 25+ years, playing a major role in the world wide Arachim baal teshuva movement.
Rabbi Eytan Kobre, Editor, Mishpacha Magazine
A prolific writer and a dynamic speaker, Rabbi Kobre's incisive and penetrating insights have helped shape public opinion on countless issues facing the Orthodox community.
Rabbi Noach Light, Rav, East Boca Kehilla; Director, Beis Medrash Halacha
A powerful and inspiring personality, Rabbi Light is a gifted orator who has the unique ability to connect, teach and inspire on an array of topics.
Rabbi Shmuel Schwartz, Rosh Kollel, Kollel Ameilim
Rabbi Schwartz is a musmach of Beis Medrash Govoha. He has taught in Yeshiva Beis Zion in Germany and was involved in outreach with the broader Jewish community.
Rebbetzin Ivy Kalazan
Rebbetzin Ivy Kalazan has spent over 25 years teaching Jewish philosophy from a logical perspective. She presently teaches in Ohr Naava, The New Seminary, The Jewish Renaissance Center and Maalot seminaries in Brooklyn.
The Venue:
The event will be held in the spacious and modern Crowne Plaza hotel in Danbury, CT. Equipped with beautiful and comfortable guest rooms as well as over 26,000 sq feet of flexible and open space, the hotel grounds offer the perfect place to relax and reconnect. The Impassioned Emunah seminar will be occupying the entire hotel for the duration of the weekend.
The Catering:
We are proud to be joined by Prime Events by Mindel Chaya who will be showcasing their unique cuisine. Mindel Chaya's team, headed by renowned chef Erick Morales, is famous for creating scrumptious, one-of-a-kind dishes. They have pioneered an approach that combines a rigid insistence on freshness with a remarkable grasp of food chemistry and an eye towards originality. With multiple-course gourmet meals and a 24-hour tea room stocked with Prime Events' latest confectionary creations, guests will be treated to a culinary experience that they will not forget.
The Entertainment:
We are pleased to be hosting Yedidim Choir who will be leading a Friday night kumzitz as well as lending their beautiful voices to enhance the Tefillos. Additionally, renowned singer Eli Levin will be leading a lively concert performance on Motzai Shabbos.
The Daycare:
The Impassioned Emunah seminar will be providing comprehensive daycare for guest's children. Featuring experienced Morahs and a wide range of activities, the children will be thoroughly entertained throughout the weekend, allowing guests to focus on the lectures and discussion panels, secure in the knowledge that their children are having a blast.
The Impassioned Emunah retreat was created to address a pressing need – to inspire an enhanced passion for Emunah and Bitachon in participants' minds and hearts, as well as create a forum to solve the latest issues facing our communities. For more information, please call 516-295-5700 x 107, email [email protected] or visit it @ eliezerinstitute.com today for pricing information.