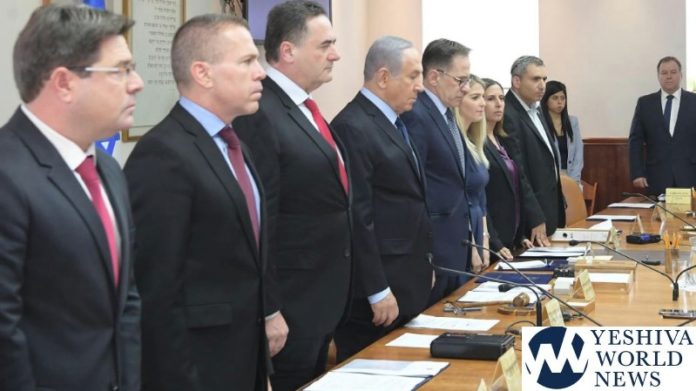 Israel's cabinet stood for a moment's silence on Sunday to honor the victims of a synagogue shooting that killed at least 11 Jews in Pittsburgh on Shabbos morning.
"The entire nation of Israel mourns with the families of the murdered in the horrendous massacre at the Tree of Life Synagogue in Pittsburgh," Prime Minister Benjamin Netanyahu said at the start of the weekly cabinet session.
Noting that the shooting "is the biggest anti-Semitic crime" in United States history, Netanyahu called on the world to unite in the fight against anti-Semitism everywhere.
"It is very difficult to exaggerate the horror of the murder of Jews who had gathered in a synagogue on Shabbat and were murdered just because they were Jews. Israel stands at the forefront with the Jewish community of Pittsburgh, with all Jewish communities in the US and with the American people. We stand together, at the forefront, against anti-Semitism and displays of such barbarity."
"I call upon the whole world to unite in the fight against anti-Semitism everywhere. Today, regretfully, we refer to the United States, where the largest anti-Semitic crime in its history took place, but we also mean, of course, Western Europe, where there is a tough struggle against the manifestations of a new anti-Semitism. Of course there is also the old and familiar anti-Semitism, and that of radical Islam. On all these fronts we must stand up and fight back against this brutal fanaticism. It starts with the Jews, but never ends with the Jews."
The gunman reportedly shouted "all Jews must die," as he stormed the Tree of Life synagogue.
"On my behalf, on behalf of the government of Israel and the nation of Israel I convey our heartfelt condolences to the families that have lost dear ones. We all pray for the speedy recovery of the wounded," Netanyahu said.
OTHER RELATED ARTICLES:
VICTIMS IDENTIFIED: Names of 11 Fatalities in Pittsburgh Synagogue Massacre Have Been Released – Ages 54 to 97
THE LATEST ON THE PITTSBURGH MASSACRE: Trump Orders Flags Be Flown At Half-Staff; Calls Attack "Evil Anti-Semitism"
Nazi Animal Who Shot Up Pittsburgh Synagogue Yelled "ALL JEWS MUST DIE"
WATCH: Trump: If Pittsburgh Synagogue Had An ARMED GUARD "They Would Have Been Able To Stop" The Shooter
WATCH: Chabad Shliach To Pittsburgh Speaks Outside Of Scene Of Shabbos Morning Massacre
Every Shul Should Have An Armed Person – A Halachic Analysis
List Of Recent US Attacks In Which Jews Were Targeted
Jewish Organizations & Officials Issue Statements About Pittsburgh Synagogue Shooting
Police Boost Patrols At Synagogues After Pittsburgh Shooting
Misaskim Heading To Pittsburgh To Assist Local Chevra Kaddisha
(YWN Israel Desk – Jerusalem)