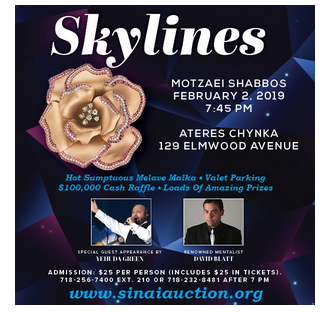 DOUBLE YOUR CHANCES AT THE SINAI ACADEMY AUCTION!
Sinai Academy is gearing up for it's annual Chinese Auction which promises to be an evening of elegance and excitement. We will have special appearances by Yehuda Green and World Renowned Mentalist David Blatt. Doors open at 7:45pm at Ateres Chynka 129 Elmwood Avenue, Brooklyn. There will be valet parking.
Please come and show your support to Sinai Academy, a mosad dedicated to introducing a life of Torah to those who otherwise would not have the opportunity.
Spend $100 or more and we will DOUBLE your selection*
PLUS
ONE FREE ENTRY INTO THE GRAND RAFFLE (CAR LEASE)
Use promo code SA2019
Choose from many great prizes, such as: Trips to Israel, sheitels, Gift Certificates for Silver, Jewelry and stores of your choice and more.
Order by:
Web: sinaiauction.org
Phone: 718-256-7400 ext 210
Night of Auction: 718-252-8480
*Excludes: Mega Raffle, Grand Raffle, Jackpot & Spin the Wheel
MUST PUT IN SELECTIONS, WE CAN NOT DOUBLE YOUR TICKETS WITHOUT SELECTING CHOICES!