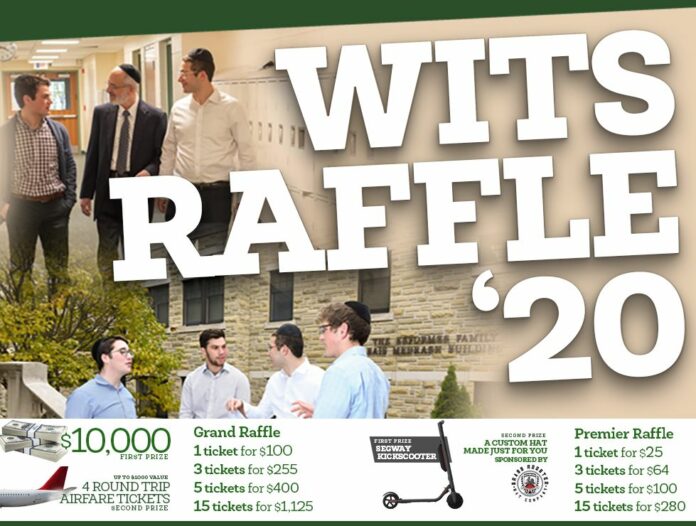 Dear Friend,
As the year commences, many of us like to reminisce about the events of the past year, and dream of what is to come. For our WITS talmidim, they know they are on a road that, G-d willing, will include a future of serving others in many capacities and committing to a life of helping develop Jews and Jewish communities in many ways.
That's what WITS is all about – providing guidance to turn young men into leaders, role-models and assets to Jewish communities across North America and beyond. It's been going on for more than 39 years. And it will go on for years to come.
WITS, being a strong and vibrant institution led by understanding rabbis and teachers, has enabled our talmidim to reach impressive maturity and lofty goals.
Now is one of the primary times in the year when we turn to you and many others and ask for your help in supporting WITS's work of building young men into praiseworthy adults. Your participation in this year's raffle campaign might bring you a valuable prize. But it will, without question, bring you a valuable role in the work of WITS.
GRAND RAFFLE
$10,000 Cash
4 Roundtrip Airfare Tickets (up to $1000 value)
PREMIER RAFFLE
Ninebot KickScooter by Segway
Custom-made Hat by Milwaukee's own, The Brass Rooster
I urge you to participate generously and I thank you.
Click here www.witsyeshiva.com/raffle to purchase raffle tickets