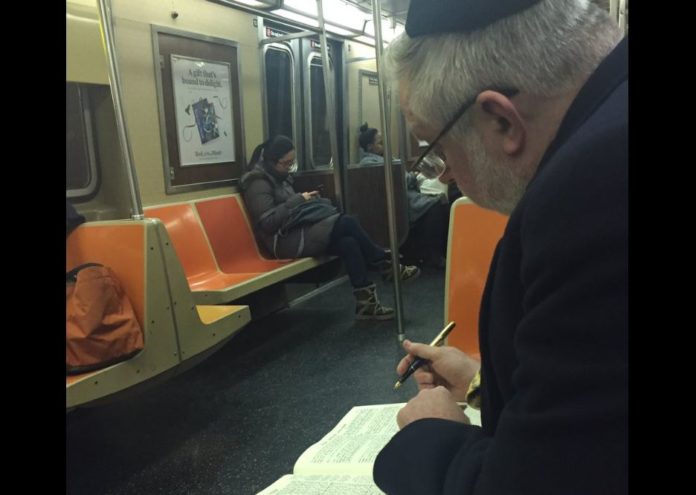 Dan Lavoie was riding the train in New York when he noticed an Orthodox Jewish man pull out his Gemara and start learning. He shared a photo and his thoughts on twitter:
I'll never get tired of dudes breaking out massive Torahs on the subway for some light studying.

I love this city. pic.twitter.com/EKjsAPi4K3

— Dan Lavoie (@djlavoie) December 19, 2017
That's a Talmud. If he broke out an actual Torah, that would be pretty difficult. The scroll is unwieldy. https://t.co/cDWCOCN55k

— Ben Shapiro (@benshapiro) December 19, 2017
It was an extraordinarily beautiful book. You see guys with hand-held versions all the time, but his was gold embossed and enormous. Really great to see.

— Dan Lavoie (@djlavoie) December 19, 2017
Impressive that you noted it. Yes, he's using a larger version called a Shas Gemorah mostly used in home, school or synagogue setting. It is 1 of the tractates of Talmud & he is one of thousands who are part of a 7 1/2 year daily learning page a day cycle. Called #DafYomi

— Chaskel Bennett (@ChaskelBennett) December 19, 2017
Much appreciated. My Catholic Sunday school didn't prepare me, apparently.

— Dan Lavoie (@djlavoie) December 19, 2017
Lavoie is a speechwriter for New York Attorney General Eric Schneiderman.
(Nat Golden – YWN)