Nation of Islam leader Louis Farrakhan has answered those who denounced as anti-Semitic his recent "Jews are my enemy" quote with another broadside, this time tweeting a video clip where he says "The Jews have control over those areas of government" – in referring to the FBI.
In light of the comments, the Republican Jewish Coalition on Tuesday called on seven Congressional Black Caucus to resign. The coalition's director, Matt Brooks, told Fox News the Democratic leaders with ties to Farrakhan have been quick to denounce President Donald Trump and the GOP for remarks or actions that they view as bigoted, but overlook blatant racism and anti-Semitism when it comes to Farrakhan.
"There's clearly a double standard," Brooks said, then amended that to say "No, there's a double double-standard. Not only do you get the progressive left wing and more centrist Democrats who aren't shy about criticizing President Trump or branding the Republican Party as white nationalists or neo-Nazis, but when it comes to condemning Louis Farrakhan, they're silent."
The members called on to resign were the subject of a story in The Daily Caller, which reported a review of videos, photographs and other documents revealed the lawmakers have had ties to Farrakhan. They are Reps. Keith Ellison of Minnesota, Maxine Waters of California, Danny Davis of Illinois, Al Green of Texas, Barbara Lee of California, Andre Carson of Indiana, and Gregory Meeks of New York.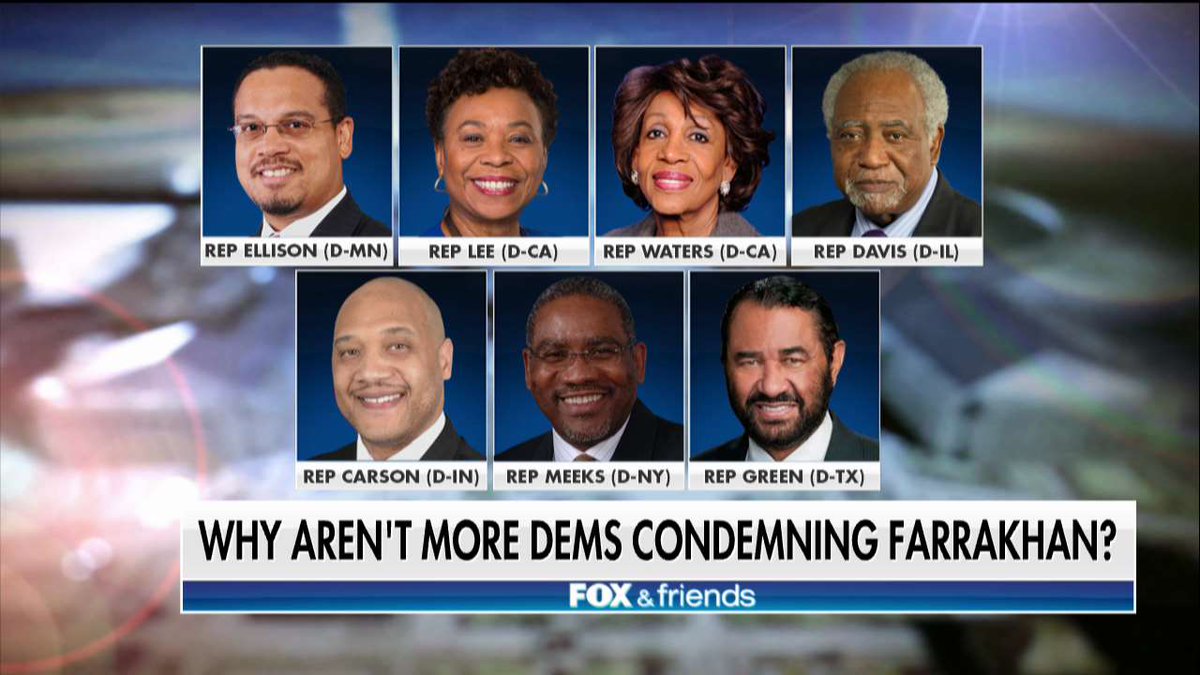 The statement from the RJC:
Today, in the wake of the news that seven members of Congress are connected to known anti-Semite Louis Farrakhan, the RJC released the following statement from Executive Director Matt Brooks:
Seven long-serving Democrats have close ties with Louis Farrakhan. Each of them should resign.
They include former Nation of Islam employee, Congressman Keith Ellison, who is Deputy Chair of the DNC. Ellison has tried to excuse his 2013 meeting with Farrakhan, while ignoring his more recent meeting with the NOI leader in Farrakhan's hotel room, in 2015. At least six other Democrats are known to have embraced Farrakhan. These members of Congress – Maxine Waters, Barbara Lee, Danny Davis, Andre Carson, Gregory Meeks, and Al Green – have all, while in office, sat down with Farrakhan for personal meetings.
There can be no question about how abhorrent it is for these Democrats to be connected to Louis Farrakhan. Farrakhan is first and foremost a preacher of hate. He preaches about Jewish "control" over the government and media and has claimed to have "pulled a cover off of that Satanic Jew," saying "your time is up, your world is through." And those were just the comments from last week.
Anti-Semitism is unacceptable. Farrakhan is the moral equivalent of a leader of the KKK. If it was discovered that members of Congress had met with the leader of the KKK, they would need to resign. In this case, for meeting with, and embracing, Louis Farrakhan, nothing short of resignation is acceptable from these seven Democrats.
(YWN World Headquarters – NYC)