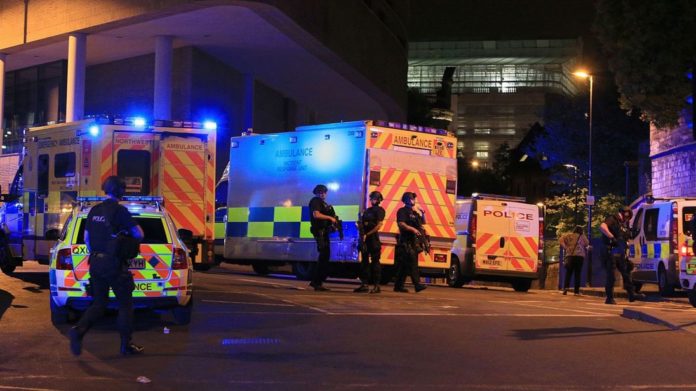 Firefighters were not allowed to go to the scene of the Manchester Arena bombing for more than two hours because of confusion about whether an attacker was still on the loose, according to a report released Tuesday.
Senior British civil servant Bob Kerslake, who headed the inquiry, said "a valuable resource was not available to assist at the scene" because fire service workers were "out of the loop."
A suicide bomber killed 22 people and injured scores more at an Ariana Grande concert on May 22 in Manchester. The report also criticized the media for the way journalists treated bombing victims.
According to the report, the first police officers were on the scene within one minute of the explosion, and more police and paramedics arrived soon after. But firefighters were kept away because the senior officer on duty mistakenly believed there was an "active shooter."
The inquiry panel said it was not able to determine whether quicker deployment of firefighters could have saved lives, saying only coroners can answer that. But it said lives were undoubtedly saved by a police duty inspector's decision to override protocol and let police and medics stay at the arena and treat the wounded, even though it was unclear whether more attacks would follow.
Manchester Mayor Andy Burnham praised emergency workers for saving lives by taking "brave, common-sense decisions" rather than following protocol.
The report also called the media's behavior "troubling."
It said one journalist offered condolences to a child before the child had been officially told about the death of her mother in the attack. Journalists also sent gifts to victims in the hospital along with notes offering 2,000 pounds ($2,800) for information. Some also apparently impersonated a bereavement nurse and a doctor to get more information.
The report said the Manchester bombing victims and their families felt mercilessly "hounded" by the press.
"To have experienced such intrusive and overbearing behavior at a time of enormous vulnerability seemed to us to be completely unacceptable," the report said.
(AP)