New York Attorney General Eric Schneiderman, whose office has taken on a high-profile role in the fight against "misconduct", was physically violent with four women according to their accounts which were published on Monday in The New Yorker .
Two women spoke on the record, saying Schneiderman repeatedly hit them during the course of their relationships with him in recent years. Neither woman filed any police complaints, but both said they sought out medical attention and confided in people close to them about the abuse.
A third woman who also was involved with him told her story to the other two women, but said she was too frightened to come forward. A fourth woman said Schneiderman slapped her when she rebuffed his advances, but also asked to remain unidentified. The New Yorker said it vetted the third woman's allegations, and saw a photo of what the fourth woman said was her injury.
Schneiderman has resigned as of Monday night, shortly after the report was published and New York Governor Andrew Cuomo called for his resignation:
"It's been my great honor and privilege to serve as Attorney General for the people of the State of New York. In the last several hours, serious allegations, which I strongly contest, have been made against me. While these allegations are unrelated to my professional conduct or the operations of the office, they will effectively prevent me from leading the office's work at this critical time. I therefore resign my office, effective at the close of business on May 8, 2018."
Statement from Governor Andrew M. Cuomo on New York Attorney General Eric Schneiderman pic.twitter.com/yiN2T7dIUx

— Andrew Cuomo (@NYGovCuomo) May 8, 2018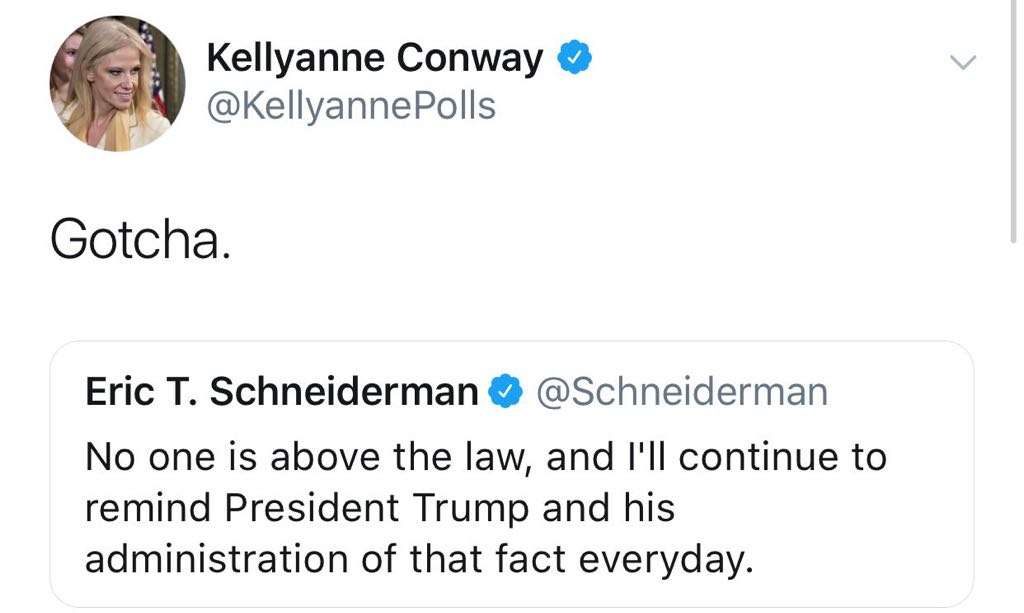 The two women who spoke on the record, Michelle Manning Barish and Tanya Selvaratnam, both said the physical abuse escalated over time, and that Schneiderman also was a heavy drinker.
Asked for comment, Schneiderman, a Democrat, denied the allegations.
His representatives sent the same statement to The Associated Press when asked about the accusations. They also sent a statement from his ex-wife, Jennifer Cunningham, who said, "I've known Eric for nearly 35 years as a husband, father and friend. These allegations are completely inconsistent with the man I know, who has always been someone of the highest character, outstanding values and a loving father. I find it impossible to believe these allegations are true."
Schneiderman has been a vocal supporter of the #MeToo movement. He filed a lawsuit in February against movie producer Harvey Weinstein and the Weinstein Co. following an investigation into allegations of misconduct, saying the company broke New York law by failing to protect employees from "pervasive harassment, intimidation and discrimination."
He launched a civil rights probe into the New York City-based company in October after The New York Times and The New Yorker exposed allegations of assault and harassment spanning decades. The company later fired Weinstein.
"This is a man who has staked his entire career, his personal narrative, on being a champion for women publicly," Selvaratnam said. "But he abuses them privately. He needs to be called out."
Meanwhile, With New York Attorney General Eric Schneiderman being accused of physical violence by four women, an old tweet from President Trump's has gotten renewed attention tonight.
Trump and Schneiderman have a history, given how, for one, the AG went after Trump University. A few years ago, he was the subject of Trump tweets like these:
Wow, l just found out that A.G. Schneiderman met with President Obama in Syracuse on Thursday — and sued me on Saturday! Same as IRS etc.

— Donald J. Trump (@realDonaldTrump) August 25, 2013
But there's one tweet in particular getting some attention tonight:
Weiner is gone, Spitzer is gone – next will be lightweight A.G. Eric Schneiderman. Is he a crook? Wait and see, worse than Spitzer or Weiner

— Donald J. Trump (@realDonaldTrump) September 11, 2013
Schneiderman had positioned himself as a leader of not just the anti-Trump legal fight by Democratic AGs, but as a political leader of the resistance – and, was trying to set himself up as the prosecutorial fail safe around potential Trump federal pardons.
Schneiderman has filed more than one hundred lawsuits against President Trump.
A short while after the report surfaced, NY Governor Cuomo called for his resignation:
"The New Yorker has published an article on Attorney General Eric Schneiderman, which reports multiple women making serious allegations of assault. No one is above the law, including New York's top legal officer. I will be asking an appropriate New York District Attorney to commence an immediate investigation, and proceed as the facts merit. My personal opinion is that, given the damning pattern of facts and corroboration laid out in the article, I do not believe it is possible for Eric Schneiderman to continue to serve as Attorney General, and for the good of the office, he should resign."
Just three weeks ago Schneiderman urged Gov. Cuomo and other lawmakers to amend a law he says would bar state charges against any associates of President Trump who get pardoned by the commander-in-chief.
(YWN World Headquarters – NYC)