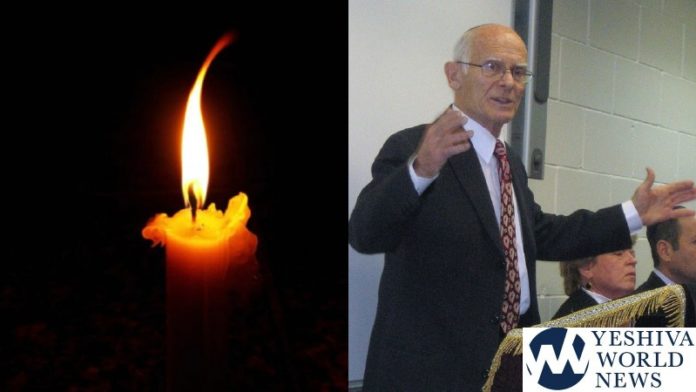 YWN regrets to inform you of the Petira of Rabbi Moshe Gottesman Z"L, former Dean at Hebrew Academy of Nassau County (HANC), and a well-known Baal Chesed, and Pillar of the Oceanside community. He was 86.
Rabbi Gottesman was born in Canada and worked in Israel, Chicago and Long Island, NY. He held the position of dean for the Hebrew Academy of Nassau County for almost 20 years. He was was also the director of tours for Camp Sdei Chemed International for over 35 years.
Rabbi Gottesman was involved in many Chesed projects. he was the head of the Bikur Cholim in South Nassau, and was instrumental in some of the Achiezer Organization's earliest initiatives.
He is survived by his wife Mrs. Sondra Gottesman, and children Malka Gottesman Weldler, Shulamit Gottesman Rubin, Shlomo Gottesman, Yussie Gottesman and Ariella Gottesman Kelman; and grandfather of Shayna Gottesman Ungar, Aliza Gottesman Fuld, Talia Gottesman Stone and Marni Gottesman.
The Levaya is taking place on Tuesday morning 9:00AM at the Young Israel of Oceanside, 150 Waukena Avenue, Oceanside, NY 11572
The Kevura will take place in Israel at Eretz Hachaim Cemetery outside Beit Shemesh at approximately 11:00AM on Wednesday, December 5th.
Boruch dayan HaEmmes…
(YWN World Headquarters – NYC)