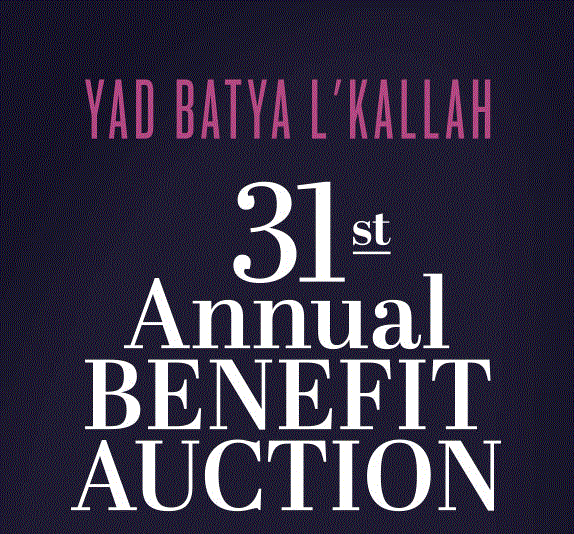 Who was Batya? What made her so special that over 30 years later, she is still a household name?
Batya was a young woman full of simcha; full of life. She imbued positivity and joy, and loved to share that simcha with all who knew her. Her greatest joy was to be Misameach Kallahs from poor homes at their weddings, and during her seminary year in Eretz Yisroel she volunteered for Yad Eliezer, infusing those kallahs with hope and happiness.
Tragically one year later, young Batya, who was newly married was suddenly taken from her young husband and adoring family.
Her devastated friends and family joined together to continue Batya's legacy. Thus, Yad Batya L'Kallah was born.
Now, over 30 years later, Yad Batya has helped thousands of kallahs, by furnishing them with all their basic household needs, generously and with dignity. Mrs. Venezia Zakheim, Batya a"h's special mother, who has launched and runs this wonderful organization, shared how discreetly and oftentimes, anonymously these kallah packages are delivered. The volunteers who deliver them don't even know whom they are delivering to, as they are only given an ID number and an address.
Purchase your prize tickets online at YadBatya.org
These special packages, prepared with tireless effort and much love by devoted volunteers, consist of everything a kallah would need to start her new married life with serenity and joy. This includes: bedding, quilts, pillows, custom-ordered linen, Correlle and Mikasa dishes, Faberware pots, and two sets of cutlery. Even a toaster oven and food processor are included.
To maintain the kallah's dignity, oftentimes these gifts are added to a bridal shower, without the kallah ever knowing from where her gifts came.
Yes, many years ago, Batya's light turned dark. But each of you, every one of us- can bring that light to shine once again! By generously donating to Yad Batya L'Kallah you can be assured that the worrisome creases on a sweet Kallah's face, will turn to light and joy. Imagine the twinkle in her eyes and the radiant glow on her beautiful face as she embraces her new life, with all her basic needs lovingly met by your gracious contribution. What a Zchus for you! What a beautiful way to commemorate Batya in a most befitting manner!
You can either make your donations and purchase your prize tickets online at YadBatya.org. Enter coupon code JCNYBLK for super disounts!
Purchase your prize tickets online at YadBatya.org
Or, better yet, come join our amazing event in person.
Sit spellbound as Rav Gav, whom we are 'importing' from Eretz Yisorel exclusively for this event, will mesmerize you with his humor and his inspiring words.

Enter your raffles for a chance to win awesome prizes.

Enjoy our delectable gourmet soup buffet, our scrumptious sushi spread and of course, our not-to-be-missed lavish dessert bar!
Come join us for a most fun and memorable evening, while at the same time, taking pride in the fact that you are providing kallahs with the unbelievable joy as they embark on the most special time of their lives!