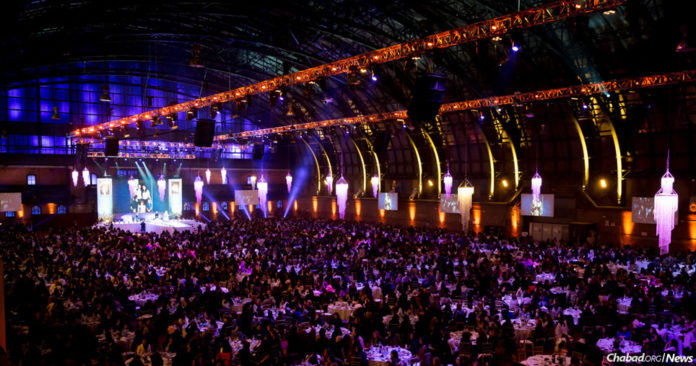 More than 3,000 Chabad-Lubavitch women emissaries and communal leaders from around the world are arriving in the Crown Heights neighborhood of Brooklyn, N.Y., this week for multiple days of activities at the annual International Conference of Chabad-Lubavitch Women Emissaries (Kinus Hashluchos).
This year's Kinus takes place from Thursday, Jan. 24, to Sunday, Jan. 27. A special program for the female emissaries will honor the 31st yahrtzeit (anniversary of passing) of Rebbetzin Chaya Mushka Schneerson, of righteous memory, on the 22nd day of the Hebrew month of Shevat, which this year begins on the evening of Sunday, Jan. 27.
The conference offers a chance for female emissaries of the Rebbe—Rabbi Menachem M. Schneerson, of righteous memory—to connect, learn from one another and spiritually rejuvenate themselves for their work in the year ahead. It's also a chance for their guests to get a sense of Chabad's impact outside of their home communities, as well as a taste of the home hospitality that distinguishes Crown Heights.
As far as activities go, there is something for just about everyone.
A full program runs for Young Shluchos, daughters of Chabad emissaries, with a complete schedule and separate bunking quarters at a local school. Their mothers will be enmeshed in workshops, general learning and a resource fair on Thursday, while Friday continues with similar programming until candle-lighting and Shabbat dinner with host families.
Two concurrent programs for guests begin on Thursday. One program recommended for first-time visitors and participants includes workshops, group sessions, farbrengen gatherings, and a tour of Crown Heights and the Jewish Children's Museum. A more in-depth program for repeat participants focuses on more text-based study programs.
Shabbat will be a day of contemplation, prayer and discussion for everyone, complete with a farbrengen (informal Chabad gathering), followed by the Havdalah ceremony marking the end of Shabbat and the beginning of a new week, and a Melaveh Malkah dinner (the meal held after the conclusion of the Sabbath).
Sunday will combine a day of workshops for emissaries and guests, culminating with a gala banquet at the U.S. Armory in the Williamsburg section of Brooklyn. Highlighting the remarkable diversity of Jewish communities served by Chabad, emissaries from Thailand, Ukraine and Cleveland, Ohio, will give snapshots of their work during the dinner. The evening will also highlight the lives and work of women who recently returned to the traditions of their ancestors, as well as high school girls who proudly carry the unbroken traditions of millennia.
The banquet will be broadcast live on Chabad.org beginning at 5:30 p.m. Eastern Time on Sunday, Jan. 27.
On Monday, the conference will conclude with a visit to the Ohel, resting place of the Rebbe and the Rebbetzin, at the Old Montefiore Cemetery in Queens. Hundreds of thousands of people from all walks of life come from around the world to the Rebbe's resting place for blessing, spiritual guidance and inspiration.
(Source: Chabad.org)