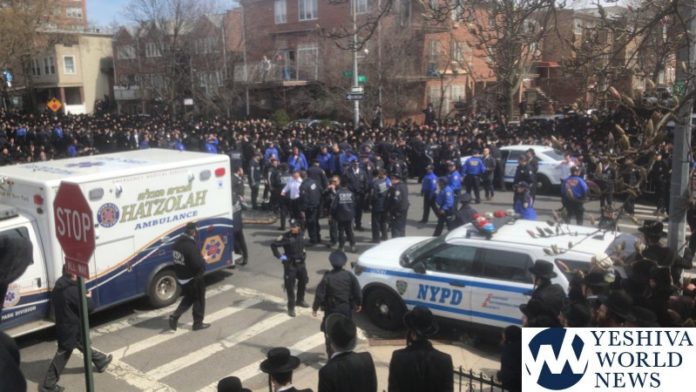 Two NYPD Officers were unfortunately injured during the massive Levaya for the Skulener Rebbe ZATZAL in Boro Park on Tuesday afternoon.
The Aron was carried for one block, and then placed into the back of a 'Sprinter' van. Tens of thousands of people were following behind the vehicle, as they paid their final respects to the Rebbe.
While doing crowd control, one officer was reportedly knocked over on 14th Avenue and 58th Street. The officer's leg was then run over by a vehicle, possibly the carrying the Aron.
That officer was taken to Lutheran Medical Center with a possible broken ankle, according to police.
An NYPD detective also suffered minor injuries from an errant drone.
"There was a drone that came out of the sky and hit a police officer," NYPD commissioner James P. O'Neill said in an afternoon press conference. said. "The drone apparently ran out of gas… and it landed on the officer's head."
The drone's pilot was arrested and charged with reckless endangerment, sources said.
The incidents prompted a massive response by the NYPD, Hatzolah, FDNY and EMS.
READ MORE – Live Updates From The Levaya of The Skulener Rebbe [UPDATED 4:08PM ET]
(YWN World Headquarters – NYC)