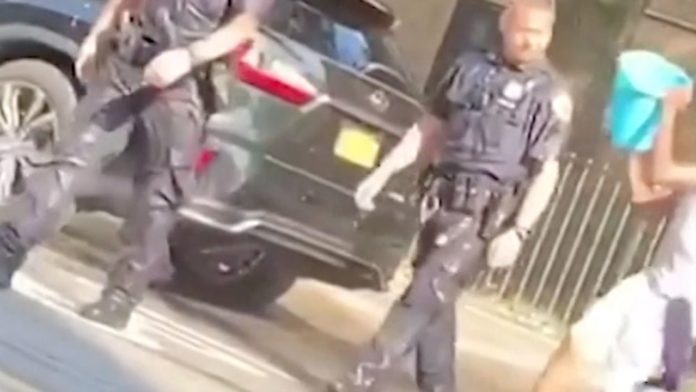 Police arrested three men in connection with separate incidents of videotaped dousings of New York City patrol officers with buckets of water, but all three have already been released.
The New York Police Department says 28-year-old Courtney Thompson, 28-year-old Chad Bowden and 23-year-old Isiah Scott were arrested Wednesday on disorderly harassment and other charges.
Police say Thompson was one of the people seen on a widely watched video dousing two police officers on a Brooklyn street during the recent heat wave. Thompson is a member of the Crips subset "Fresh Gangstas" gang. He has more than 20 prior arrests.
Police say Bowden and Scott were nabbed in connection with a second clip that surfaced this week showing two other officers getting drenched while they were making an arrest in Harlem. It appeared one of the officers was hit in the head with a bucket.
Police are still searching for more suspects in both cases.
According to the NY Post, the men, respectively 23 and 28, were hit with charges including criminal mischief and harassment, because the water fried the unsuspecting woman's cellphone, prosecutors allege.
…What took place was completely unacceptable, and will not be tolerated. Bill de Blasio should act immediately!

— Donald J. Trump (@realDonaldTrump) July 25, 2019
The videos, first tweeted by the popular @NYScanner Twitter account which is followed by more than 100K, showed disturbing footage of police officers being attacked in NYC.
The videos sparked outrage and led police officials to urge officers not to tolerate the behavior and to launch a search for suspects.
Due to expletives on the videos, YWN is unable to publish all of them.
Here is just one – where the NYScanner account wrote simply: "Restraint."
RESTRAINT pic.twitter.com/MhvXjceiI6

— NYC Scanner (@NYScanner) July 22, 2019
The appearance that the pranksters on both videos showed little fear of reprisal also fueled accusations against Democratic Mayor Bill de Blasio and other liberal politicians that their police reform policies have fostered a climate of disrespect for officers on the beat.
De Blasio has said only the Harlem incident was "confrontational," adding, "I'll just state the obvious — it's not acceptable for anyone to resist arrest, it's not acceptable for anyone to interfere with the NYPD when they're effectuating an arrest."
(AP)