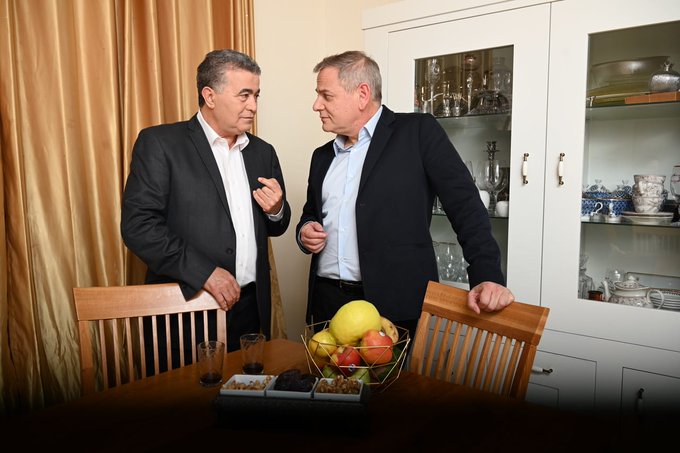 The Labor-Gesher and Meretz parties announced on Monday that their two parties are merging and will run jointly for the upcoming March 2 elections.
Labor chairman Amir Peretz will head the party, followed by Gesher chairman Orly Levy-Abekasis as number two and Meretz chairman Nitzan Horowitz as number three, followed by Tamar Zandberg of Meretz and Itzik Shmuli and Merav Michaeli of Labor. Former IDF deputy chief of staff Yair Golan, who merged with Meretz as part of Ehud Barak's Democratic Israel party before the previous elections will be placed seventh on the list.
The merger announcement was a surprise as Peretz had adamantly refused to merge in the past with the far-left Meretz, instead recently trying to merge with the centrist Blue & White, a move rejected by its leader Benny Gantz. It was also an unlikely move for Gesher, headed by Levy-Abekasis who is the daughter of former Likud minister Dovid Levy and originally entered the Knesset as a right-wing MK for Yisrael Beiteinu, later leaving and forming Gesher.
Levy-Abekasis said that it was a difficult decision for her but felt it was necessary under the circumstances and her Gesher party will continue to focus on its central platform of socio-economic issues. Furthermore, the parties are merging as a "technical bloc" and will likely separate after the elections, she said.
The parties formed the merger out of fear that one of the parties, especially Meretz, could fail to pass the threshold in a separate run, a risk confirmed by polls.
The big loser of the merger is Stav Shaffir – a rising political star in the Labor party when elected to the Knesset in 2013 as the youngest female Knesset member in history at age 27 – who was left out of the union altogether. Shaffir left Labor after losing the party's leadership election to Amir Peretz in June 2019 and became the head of the Green Party, later joining Meretz and the Democratic Israel party to form the Democratic Union before the September 2019 elections, when she was re-elected to the Knesset as number two on the list.
The Democratic Union dissolved following the September elections, in which it won five seats, only one more than Meretz won when it ran alone in the April elections. Barak decided to resign from politics and Meretz leaders, who were disappointed by the results, decided that Shaffir's place should be dropped down on the list, a move Shaffir fiercely opposed, placing her in conflict with Meretz members whom she dubbed "dinosaurs of the left."
(YWN Israel Desk – Jerusalem)