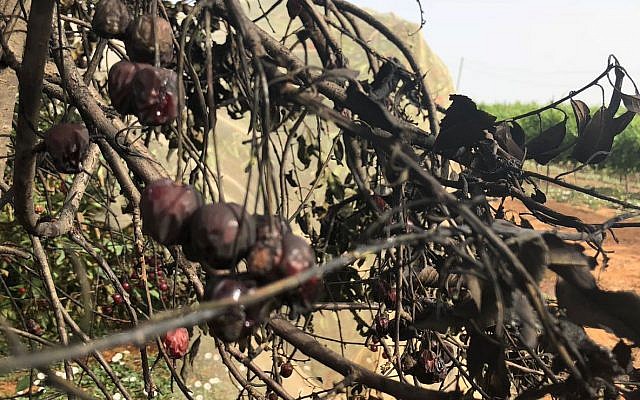 Just a week before the large annual Cherry Festival in Gush Etzion, Arabs during the night set the cherry orchards in Kibbutz Kfar Etzion ablaze, resulting in total destruction. In addition, equipment valued at tens of thousands of shekels was vandalized and destroyed.
Community residents tell the news there is no doubt this was intentional, and it was carried out during the late-night hours. They feel the timing, just a week before the festival, is also not coincidental.
The explain that in additional to the damage to the trees, the agricultural equipment was badly damaged and destroyed.
Gush Etzion Regional Council Head Shlomo Neeman explained to the media "We are witness to an organized attack by Arab rioters against Jewish agriculture, which repeats itself. We are not speaking of youths who are bored, but nothing less than a serious attack against Am Yisrael and Israeli Sovereignty".
"It is unacceptable that Jewish farmers work the land and the rioters continue their traditional attempt to dispossess the people of Gush Etzion from their land, and we openly declare that they will find us here standing on our values ​​and on our land forever. The state authorities, headed by the court that a few days ago released those who harm the Israeli farmers after being arrested by our forces with great effort, are required to act immediately to impose the rule of law. The farmers of Gush Etzion and Kfar Etzion are not heker."
It is announced that despite the vast damage, the annual Gush Etzion Cherry Festival will take place on Friday, 18 Sivan, and the picking will take place under the "eat according to your ability" and there will be stations for children, inflatables for children and more.
(YWN Israel Desk – Jerusalem)