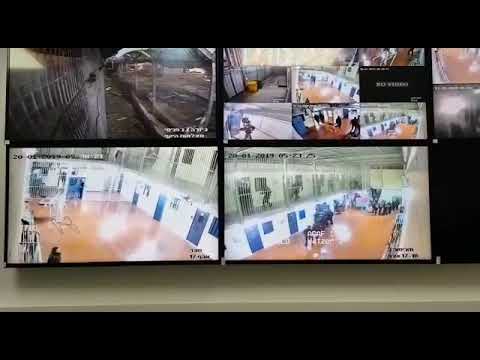 The Israel Prison Service's (IPS) operational activity in Ofer Prison on Sunday, January 20, 2019, included a surprise search.
The video shows the jailers' surprise breakthrough, which was intended to maintain the element of surprise when entering cells towards preventing inmates from hiding smuggled items.
According to the Israel Prison Service spokesman, during the search, various weapons were seized along with cell phones, SIM cards and written material.
The prisoners involved in hiding the prohibited items were punished. Two small telephones were found on the body of a prisoner belonging to the Palestinian Islamic Jihad.
On Monday morning, January 21, 2019, cells were set on fire by inmates in several areas of the prison, accompanied by violence. Three prisoners were injured and needed medical treatment.
The fire was extinguished by the prison guards and the special units of the IPS were mobilized to deal with the incident.
(YWN Israel Desk – Jerusalem)