As Purim approaches, a call has been made by Gedolei Yisrael to observe the day properly, as intended, which includes avoiding spiritual disintegration or wandering out of emptiness and debauchery.
The letter is signed by HaGaon HaRav Chaim Kanievsky, HaGaon HaRav Gershon Edelstein, HaGaon HaRav Shlomo Cohen, HaGaon HaRav Chaim Meir Wosner, HaGaon HaRav Shimon Ba'adani and HaGaon HaRav Baruch Dov Povarsky.
"The days of Purim that were set for a feast and joy are holy days," the Gedolei Torah write. "On the other hand, the yetzer hora tries to instill that they are days of spiritual disintegration and אינשי דלא מעלי are hanging around roaming the streets out of emptiness and debauchery.
"We therefore appeal to educators and parents to prevent children of talmidei torah and talmidei yeshivos from being on the streets of Purim on the streets of the city, and to celebrate the joy of Purim only in places that are guarded against אינשי דלא מעלי.
"Not to make noise in the late hours of the night with musical instruments and the like, which is very disturbing, especially for the old and weak, and the tremendous danger that is placed on fireworks and caps, which are sakonas nefoshos and it is actually a mitzvah to take them those items which scare others away from children.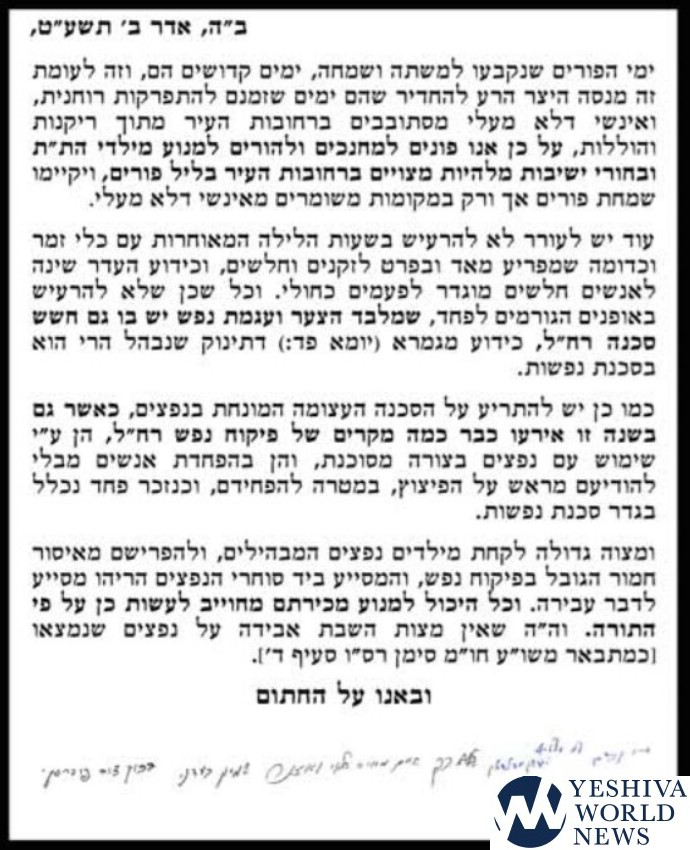 (YWN Israel Desk – Jerusalem)