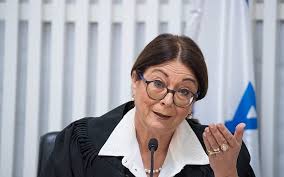 Justice Esther Hayut, the President of Israel's Supreme Court, in her address on Thursday to a conference of former presidents and vice presidents of the court, spoke out harshly against newly appointed justice minister, Amir Ochana.
"Following an interview with Ochana that was broadcast on Wednesday, it is important for me to tell you that in my opinion, the fact that a justice minister in the State of Israel, on his inauguration day, chooses to share with us an unprecedented and irresponsible legal outlook that does not include the need to respect all judgments handed down by the court ", Hayut said.
She added, "In other words, from now on, every litigant will be able to receive the blessing of the Minister of Justice to choose which judgment to uphold and which not. I want to say only one thing about this – between this view of the world and the anarchy of 'each man shall act as he sees' – the road is short".
The president of the Supreme Court responded to an interview given by the justice minister to Amit Segal on the news, during which he was asked about his previous statement that not every court ruling has to be adhered to.
Ochana replied: "Tali Hatuel lived in Gush Katif. She arrived at the Kissufim route and was shot by terrorists who reached the road. It appears that the terrorists reached the Kissufim road under the protection of a number of structures in the area. The army identified the buildings as a security threat, and the High Court of Justice, even though it has no expertise, decided to prevent the demolition of those very same structures."
When asked if in some cases the Supreme Court's decisions are not necessary, Ochana replied: "The supreme consideration should be to protect the lives of the citizens, yes."
May 2, 2004 – Tali Hatuel, 34, and her daughters HY"D – Hila (11), Hadar (9), Roni (7), and Merav (2), of Gush Katif, were killed and another civilian and two soldiers wounded when two Palestinian terrorists fired on an Israeli car at the entrance to Gaza community of Gush Katif. Fatah and Islamic Jihad claimed joint responsibility for the attack.
(YWN Israel Desk – Jerusalem)