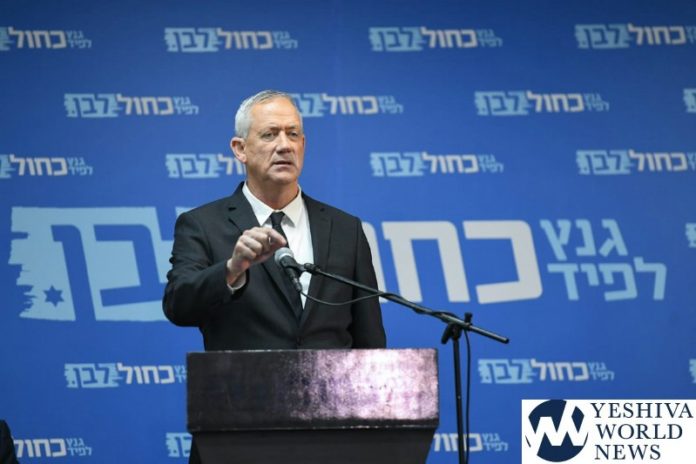 A poll commissioned by Israel' Channel 12 Meet the Press program revealed that most Israelis would like to see Blue & White party Chairman MK Benny Gantz succeed in his efforts to build a coalition government. However, the same majority would like to see Prime Minister Binyamin Netanyahu and the chareidi parties included in the very same coalition.
According to the poll, 54% of the respondents want to see Gantz head the next government in the time remaining to him under the presidential mandate. 30.2% do not wish to see such a scenario, and 15% did not respond.
Which coalition government would you like to see?
• 54% Blue & White-led headed by Benny Gantz and including Netanyahu, the chareidim and dati leumi parties.
• 29.1% Likud-led headed by Binyamin Netanyahu and including the chareidim
If there is a third round of election, will you vote for the same or different party?
• 67.9% the same party
• 6.6% a different party in the same bloc
• 2.4% the opposing bloc
• 12.1% won't vote if there is another round of elections within a year
• 11.1% do not know who they will vote for
The poll was conducted by Prof. Effie Ya'ar and Dr. Nimrod Rozler of Tel Aviv University for Midgam Institute headed by Prof. Mano Geva. 600 respondents participated in the poll.
(YWN Israel Desk – Jerusalem)