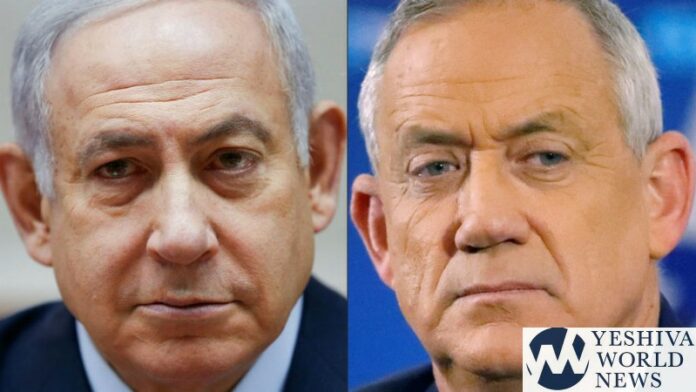 According to the new plan, the Blue & White party will enter the coalition government headed by Prime Minister Binyamin Netanyahu with a guarantee that he will step down in five months. At this time however, Yair Lapid and his Yesh Atid party will remain outside the coalition, a member of the opposition until Netanyahu steps down from his leadership position.
Joining Lapid is opposing the deal is MK Moshe Ya'alon, who holds the third slot on the Blue & White list. Both he and Lapid insist that Netanyahu is sabotaging them as they feel they know him well enough as former cabinet ministers in a Netanyahu-led government.
During the internal party debate, Lapid told Gantz, Ya'alon and Ashkenazi "I know him as a politician, but you also know him as an IDF chief of staff," as they served under him in that capacity as well.
Gantz and Ashkenazi were more moderate in their position, as opposed to Lapid and Ya'alon, who were adamant in their objections regarding joining a coalition with Netanyahu, even for five months.
Seeking to prevent elections, the chareidi parties announced that they are willing to guarantee that Netanyahu will step down in a number of months as promised to permit implementing the rotation agreement. Seeking to persuade Blue & White to accept the deal, the chareidi parties add that if one of the sides preempts to dissolve the Knesset, the other side will automatically become prime minister. Another idea floated is that 80 votes would be required to dissolve the Knesset.
In the interim, talks continue towards saving the situation as the 21-day period to form a coalition expires on Wednesday and if a coalition is not presented to President Reuven Rivlin by then, the nation will head to a third round of elections.
(YWN Israel Desk – Jerusalem)