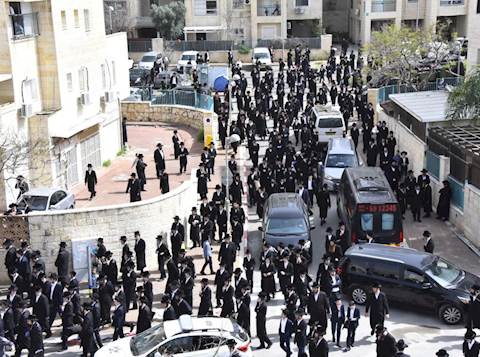 Harav Yosef Asher Anshel Lemberger, zt"l, Rav of Makava-Elad, passed away suddenly from a heart attack on Tuesday morning at the age of 67.
The Rav had just returned on Monday night from New York, where he participated in a granddaughter's wedding and by Tuesday morning, the Makava kehilla was engulfed in mourning.
His levaya was held on Tuesday afternoon at the Makava Beis Medrash in Elad and his chassidim followed Health Ministry directives to stay two meters apart from each other. The Rav was buried in Kiryat Ata, where his late father, Harav Moshe Nosson Nota Lemberger, the Ateres Moshe of Makava, zt"l, is buried.
The Rav only moved to Elad a few months ago, previously living in Kiryat Sanz, Netanya, although he used to spend every Shabbos in Elad with his community.
(YWN Israel Desk – Jerusalem)