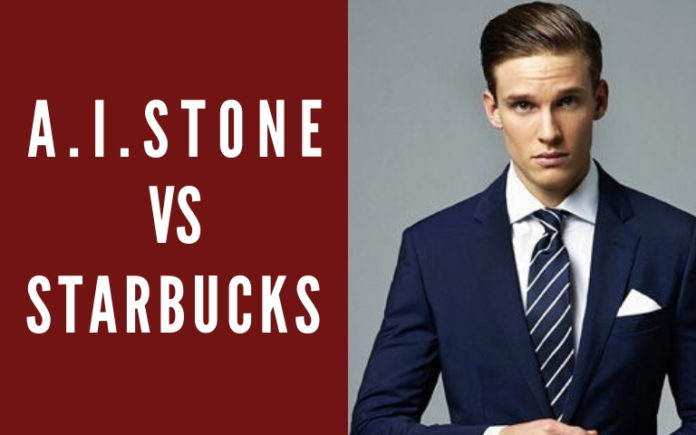 A . I . S T O N E VS
STARBUCKS
Sounds a bit crazy….
Everyone knows the Starbucks model.
Charge four bucks for a cup of coffee and the customers are
sold.
And it's like that in every industry.
Double the prices and watch the customers roll in.
At A . I . S T O N E they take a different route.
And the customers are loving it.
It's been almost ten years and the guys at A . I . S T O N E learnt a thing or two about
manufacturing great clothing.
Sourced at world class factories with the highest standards of
production.
The shirts and suits at
A . I . S T O N E are comparable
to the top brands sold at the high end boutiques.
Sold direct to the customer they cut out the middleman to
save you money.
No fancy retail stores and no expensive marketing campaigns and
mailings.
When you buy a shirt or a suit at A . I . S T O N E you are
getting the best value for your money.
There's no gimmicks or price games. No bluff. Just a great
price every day of the year.
AND THEIR CUSTOMERS HAVE EARNED THEIR RESPECT.
Their new twill shirt became an instant favorite and the
CLEAN SHIRT for boys is now a classic in so many homes.
The LEo men's suits and King&Lamb boys' suits are
constructed using the highest standards and quality fabrics.
Shirts are all cotton NON-IRON and just 3/$99.
Men's suits are high quality wool and just $250 including
alterations.
Boys suits are on sale now for just $90-$125!
Go visit their popup shops in Brooklyn (1390 Coney) and
Cedarhurst (339 Central) or if you are in Lakewood stop in at their warehouse
at 770 Vassar Ave.
You can also shop online at www.aistone.com
Or call 732 746 5035.
Order now and have great new shirts for yom tov!.
If you are new to A . I . S T O N E we say welcome to the family.
If you already a customer, we say thank you so much!
We appreciate
your business.