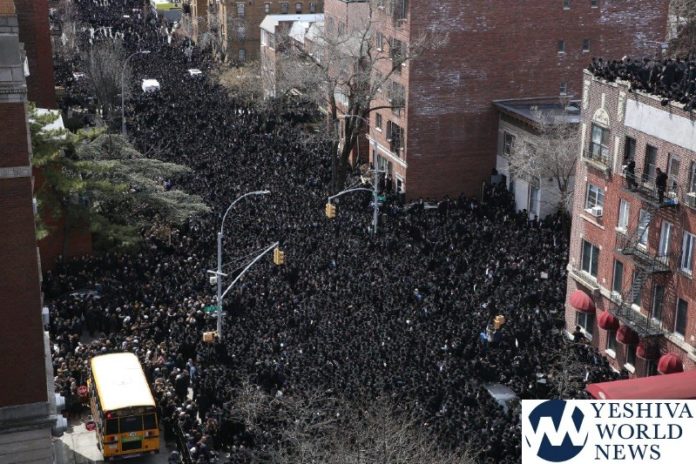 If the article you wrote about a Mesifta in Lakewood of suspending their yeshiva bochrim, who attended the Levaya of the Skulener Rebbe ZT"L after being instructed by the hanhalah not to attend, is true (and I hope it is not), then I am writing an…
Open letter to the YWN and its readership:
The Gemara in Kesuvos (17a) explains that one should relinquish one's Torah learning in order to attend a funeral or to attend a wedding, if their presence is required. When discussing how many people are necessary, the Gemara states, "Just as the Torah was given with 600,000, so too 600,000 should be present when it is taken back". The Gemara concludes that this applies to one who learns Torah, but for one who teaches Torah there is no limit. The Shulchan Aruch (Yoreh Da'ah 361:1) codifies this as the Halacha. The Shulchan Aruch concludes by saying that this does not apply to Tinokos Shel Beis Raban or young Torah students. They should not disrupt their studies to attend a funeral. However, if we look around the Jewish world today and the widespread practice of closing even the elementary schools for funerals of Torah scholars, certainly the rule of Tinokos Shel Beis Raban should not apply to these students. As the Gemara (Eiruvin 14b) tells us, when Halacha is in doubt 'see what the people say'.
While I did not have the opportunity to know the Skulener Rebbe zt"l personally, as I live in Israel, the outpouring of grief and anguish that was seen and visible, not only to the Jewish people who reside in Boro Park and in Monsey, but also noticed by the police and the general public who saw the many tens of thousands of people who participated both in the eulogies in Boro Park as well as the burial procession in Monsey, testify to the stature of the Skulener Rebbe zt"l.
Even if before the event, the Hanhala of the Mesivta were unaware of the esteem of the Skulener Rebbe zt"l in the eyes of the masses, certainly after the fact, they should have reassessed their position rather than double down by suspending these student, who may have felt obligated by Torah law to attend, especially their Chassidic students, who may have felt they were participating in the Levayah of someone who they considered one of the great sages of this generation.
If the Hanhalah of this Mesivta follows through in punishing these Yeshiva Bochrim who are adhering to Shulchan Aruch, then in my opinion, this Mesivta is causing damage to their student's perception of Torah, those who learn it, those who practice it, and their students who desire a genuine Torah education.
May such an occurrence never happen again regarding the Levaya of a sage of Yisroel, whether it be a Chassidic Torah leader, a Misnadic Torah leader, or a Torah leader of any group within the Yeshiva Torah World.
Mayer Alter HaLevi Horowitz
The Bostoner Rebbe of Yerushalayim
Thirty-five Years of Kiryat Boston-Har Nof in Eretz Yisroel
שלושים וחמש שנה לבוסטון הר נוף בארצנו הקדושה
[SEE THIS: Suspended Bochrim Are Sitting And Learning in Lakewood Shul [PHOTOS]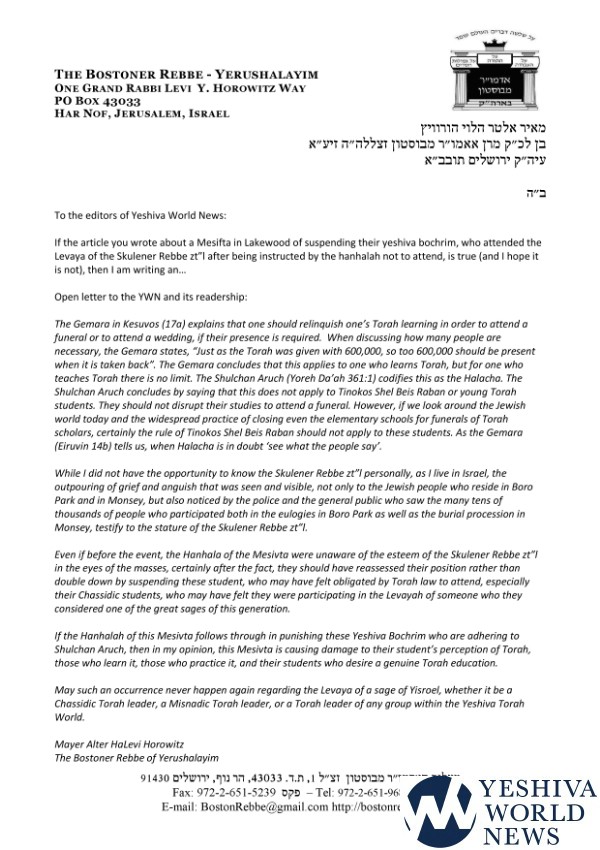 THE FOLLOWING WAS THE EXTENSIVE YWN COVERAGE OF THE LEVAYA
VIDEOS & PHOTOS: Live Coverage of the Boro Park & Monsey Levayas of the Skulener Rebbe ZATZAL
INJURED NYPD OFFICERS: One Struck By Vehicle Carrying Aron of Skulener Rebbe ZATZAL; Another Struck By Falling Drone
Photo Essay: Levaya Of The Skulener Rebbe ZATZAL- Part 1 (Photos by JDN)
Photo Essay: Levaya Of The Skulener Rebbe ZATZAL – Part 2 (Photos by JDN)
Photo Essay: Levaya Of The Skulener Rebbe ZATZAL – Part 3 (Photos by JDN)
Photo Essay: Levayah Of The Skulener Rebbe ZATZAL In Monsey – Part 1 (Photos by JDN)
Photo Essay: Levayah Of The Skulener Rebbe ZATZAL In Monsey – Part 2 (Photos by JDN)
Photo Essay: Photos Of The Skulener Rebbe ZATZAL – Part 1 (Photos by JDN)
Photo Essay: Photos Of The Skulener Rebbe ZATZAL – Part 2 (Photos by JDN)
BORUCH DAYAN HA'EMES: Petira of the Skulener Rebbe ZATZAL
(YWN Israel Desk – Jerusalem)