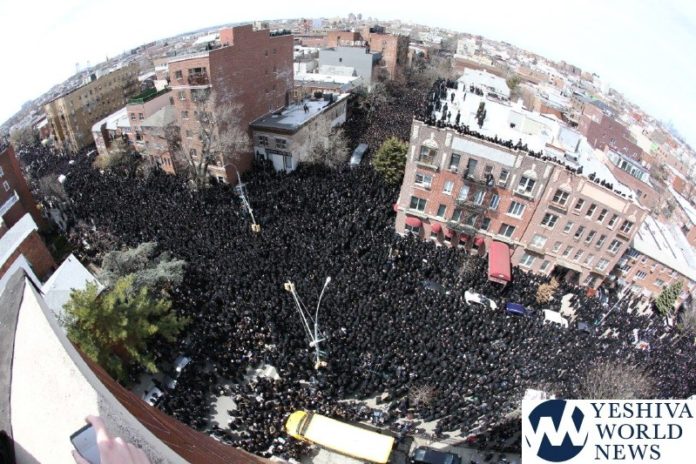 A Mesivta in Lakewood might have broken world records on Wednesday, after dozens of Bochurim were suspended. The boys were given the boot because they chose to attend the Levaya of the Skulener Rebbe ZATZAL in Boro Park on Tuesday.
According to a report by TLS, the Hanhala reportedly told the Bochurim to stay in Yeshiva and learn, rather than travel to New York for the Levaya, but a large group decided to do otherwise. Many of the Bochurim in this Mesivta are from a Chassidish background, and really wanted to attend this Levaya.
On Wednesday, approximately 50 boys were told not to come back to Yeshiva.
Additionally, many of them are being told not to come back next Z'man (after Pesach).
THE FOLLOWING WAS THE EXTENSIVE YWN COVERAGE OF THE LEVAYA
VIDEOS & PHOTOS: Live Coverage of the Boro Park & Monsey Levayas of the Skulener Rebbe ZATZAL
INJURED NYPD OFFICERS: One Struck By Vehicle Carrying Aron of Skulener Rebbe ZATZAL; Another Struck By Falling Drone
Photo Essay: Levaya Of The Skulener Rebbe ZATZAL- Part 1 (Photos by JDN)
Photo Essay: Levaya Of The Skulener Rebbe ZATZAL – Part 2 (Photos by JDN)
Photo Essay: Levaya Of The Skulener Rebbe ZATZAL – Part 3 (Photos by JDN)
Photo Essay: Levayah Of The Skulener Rebbe ZATZAL In Monsey – Part 1 (Photos by JDN)
Photo Essay: Levayah Of The Skulener Rebbe ZATZAL In Monsey – Part 2 (Photos by JDN)
Photo Essay: Photos Of The Skulener Rebbe ZATZAL – Part 1 (Photos by JDN)
Photo Essay: Photos Of The Skulener Rebbe ZATZAL – Part 2 (Photos by JDN)
BORUCH DAYAN HA'EMES: Petira of the Skulener Rebbe ZATZAL
(YWN World Headquarters – NYC)