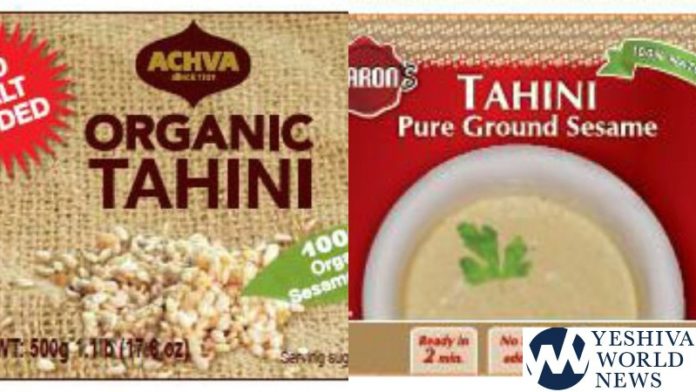 The U.S. Food and Drug Administration, the Centers for Disease Control and Prevention and state and local partners are investigating a multi-state outbreak of at least five Salmonella Concord illness cases linked to tahini, a sesame condiment and hummus ingredient, imported from Achdut Ltd., a manufacturer located in Ari'el, Israel.
The FDA said cross-contamination is the probable root cause. The agency also said Achdut Ltd. has eliminated the contamination's source and taken preventive steps.
Achdut is collaborating with health officials and has voluntarily recalled all brands of tahini products manufactured from April 7 to May 21 with expiration dates of April 7, 2020 to May 21, 2020 because they may be contaminated with salmonella, an organism which the FDA says "can cause serious and sometimes fatal infections in young children, frail or elderly people and others with weakened immune systems."
The recalled tahini was distributed internationally in retail stores and through mail orders. The recalled products are Tahini, Whole Tahini, Organic Tahini and Seasoned Tahini. The recalled container sizes are 15 ounces, 16 ounces, 17.6 ounces, 635 ounces with lot numbers 18-097 to 18-141 or with the aforementioned expiration dates. The products' brand names are Achdut, Baron's, S&F, Pepperwood, Soom and Achva.
The FDA is urging consumers who have purchased the listed Tahini products to return them to the place of purchase for a full refund. Some brands of tahini manufactured by Achdut Ltd. may lack specific dates or may have labels written in Hebrew.
FDA officials said consumers who have purchased a tahini product and are uncertain of where the product was manufactured or cannot identify the brand by lot codes or expiration dates should use caution and discard the product or return the food to the store for a refund.
Officials said retailers and restaurants should not use any of the recalled tahini manufactured by Achdut Ltd. at their establishments. Firms that may have used the recalled tahini, either repacked or used as an ingredient in food without killing the pathogen, should also consider recalling their products. Recalls should be reported to the local FDA office. A list of recall coordinators can be found on the FDA's website.
Consumers who have symptoms of salmonellosis should contact their healthcare provider to report their symptoms and receive care.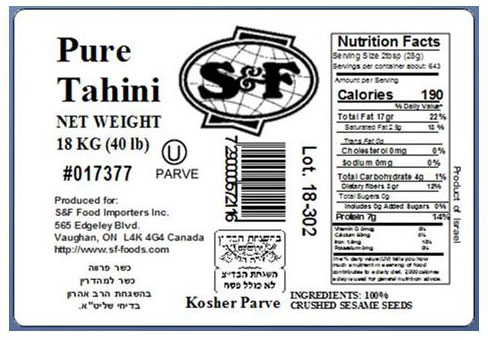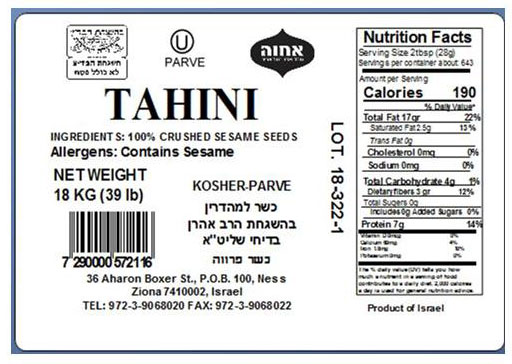 (YWN World Headquarters – NYC)