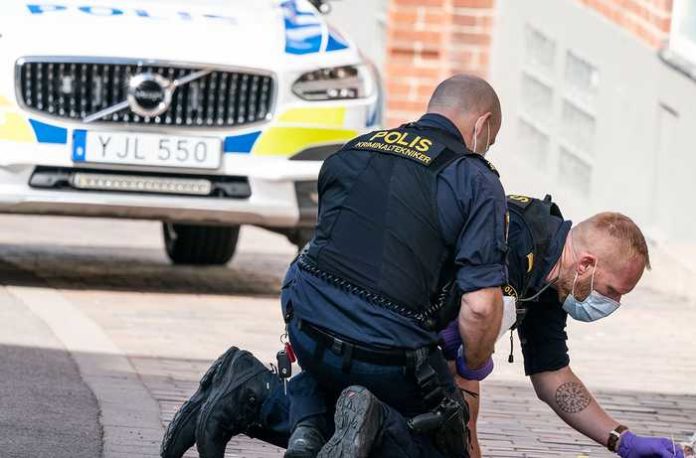 A Jewish woman was in critical condition after she was stabbed multiple times in the city of Helsingborg in Sweden, Swedish media reported Tuesday.
According to an eyewitness which spoke to Maariv news, the approximately 60-year-old victim was heard screaming "Help me! Help me!", in English.
She was stabbed at least 9 times before being left for dead.
The male suspect fled on foot. Police announced Wednesday morning they arrested a male suspect at 3:00AM in Denmark but have not yet disclosed any infomation. The suspect is expected to be extradited to Sweden.
Police said they are investigating the incident as an attempted murder, and have not yet determined if this was a hate crime or not.
Police stationed officers outside the Helsingborg synagogue and other Jewish institutions.
The victim is said to be an active member of the city's small Shul. "We don't know if it's a coincidence or if the attack has something to do with her being active in the congregation," one of the congregation's members told Swedish state television broadcaster SVT.
"We are deeply shocked. It's a really wonderful and helpful person who has been subjected to this tragic event."
Reports state that the victim is the wife of the leader of the local Jewish community, although that has not been confirmed.
Please be Mispallel for Miriam bat Ruth.
Israel's president, Reuven Rivlin, linked the assault to anti-Semitism, writing in a statement that it "reminds us that we cannot rely on fading memories of the Holocaust to keep today's Jewish communities safe."
#BREAKING: Jewish female in her 60's was stabbed 9 times and critically wounded in the Swedish city of #Helsingborg pic.twitter.com/06DZiESfE9

— Amichai Stein (@AmichaiStein1) May 14, 2019
(YWN World Headquarters – NYC)