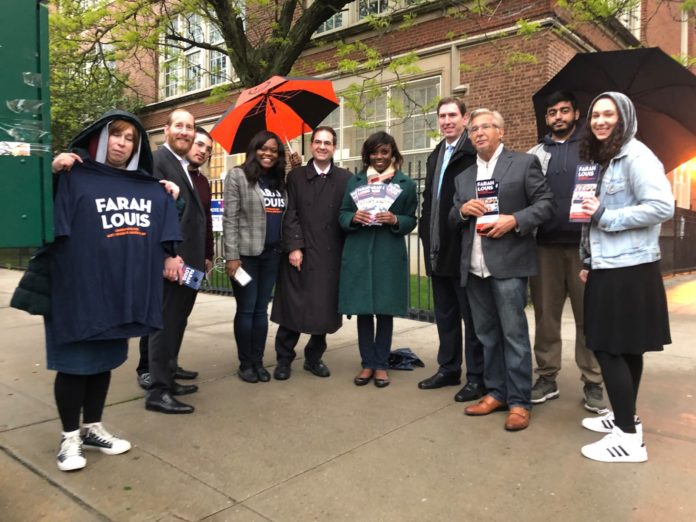 The race for the NYC City Council seat vacated by Jumaane Williams is over.
The winner is Farah Louis, the Deputy Chief of Staff and Budget Director for Williams before was elected Public Advocate on March 20.
The 45th council district covers East Flatbush, Flatbush, Flatlands, Marine Park, and Midwood. More than 188,000 people live in the district.
There were 8 candidates on the ballot in Tuesday's special election. With 99 percent of precincts reporting, Louis had 42.4 percent of the vote (3,718 ballots) compared to Monique Chandler-Waterman's 30 percent (2,631 votes). Chandler-Waterman, who was the community outreach director in Williams's City Council office, was the only candidate Williams had endorsed. All other candidates received under 10 percent of the vote.
Louis only holds the seat until the end of the year. She will have to win a primary on June 25 and the general election in November to serve the remainder of Williams' term, which runs through 2021.
Nearly every Frum community leader backed Louis. Many Rabbonim felt there was much at stake in this election and all backed Louis. Councilman Chaim Deutsch and Councilman Kalman Yeger did the same. They, along with many community activists such as Chaskel Bennet worked around the clock to get the vote out for Louis. Their hard work paid off, and assisted in handing Louis a victory.
[MAILBAG: An Open Letter To My Fellow Mothers in Flatbush]
This campaign has shown me the beauty, resiliency & power of this district. Every person who contributed, volunteered, voted & every person who offered a word of encouragement played an integral part in tonight's outcome. It is my deepest honor to represent you on the @NYCCouncil pic.twitter.com/IBDvvniCeM

— Farah N. Louis (@FarahNLouis) May 15, 2019
Thank You @ChaskelBennett for the powerful words at the victory party of @FarahNLouis who just won the special election for Council #District45 #AUnified45 #Farahfor45 our community UNITED not DIVIDED can't be DEFEATED! pic.twitter.com/GHv6tl04n3

— Gary Schlesinger (@GarySchlesinger) May 15, 2019
Congratulations @FarahNLouis on a decisive win in the 45th Council District. I'm proud to have supported your candidacy, along with @KalmanYeger & @FlatbushJCC, and I look forward to working with you on behalf of the Flatbush community in the @NYCCouncil! pic.twitter.com/CpI9cL6ZTW

— Councilman Deutsch (@ChaimDeutsch) May 15, 2019
Working last minute votes in the rain with two guys I am proud to call my friends. Thank you @ChaimDeutsch & @KalmanYeger for your leadership & service to our community. #Achdus pic.twitter.com/80J3atB8iP

— Chaskel Bennett (@ChaskelBennett) May 15, 2019
It's Election Day for those who live in the 45th Council District! Glad to see so many supporters of @FarahNLouis out voting today! Keep it coming! 💪🏻 pic.twitter.com/YVUkzncauM

— Councilman Deutsch (@ChaimDeutsch) May 14, 2019
Vote Today for @FarahNLouis for City Council. Your vote counts!
Polls are open until 9 PM pic.twitter.com/A957s8zYg3

— FJCC (@FlatbushJCC) May 14, 2019
Hitting the streets campaigning with @FarahNLouis in Flatbush, rain won't stop us!

If you live in the 45th Council district, please come out and VOTE TOMORROW for FARAH LEWIS.

Don't get distracted by last minute desperation tactics from other campaigns. EVERY vote counts! pic.twitter.com/CJQXfgzMU7

— David Schwartz (@DavidSchwartz48) May 14, 2019
(YWN World Headquarters – NYC)