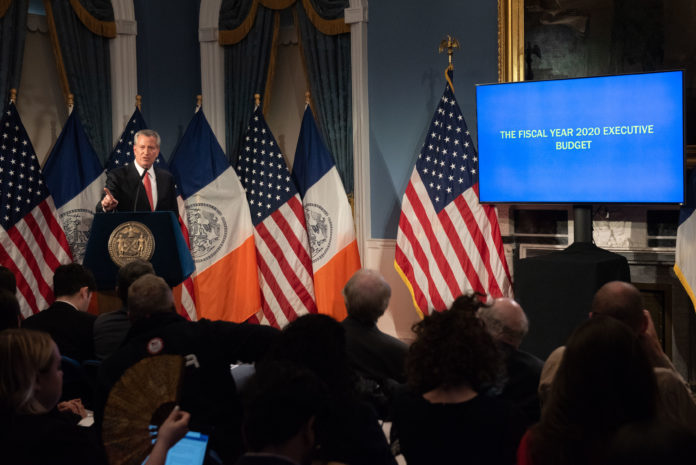 After tremendous efforts by Williamsburg's Councilman Stephen T. Levin, Chair of the General Welfare Committee, Speaker Corey Johnson and the de Blasio administration – a much-needed increase in the Special Child Care Funding was secured in the FY20 City budget that was announced today. The Mayor and Speaker announced the much-anticipated increase today, adding an additional 19.7 Million Dollars to the program, bringing the total funding for the program hard-working families to about $47 Million. This will add roughly 2,600 new vouchers for working-needy families and children. In another major long-term achievement, the administration committed to add funding in the coming years to re-issue additional vouchers to replace expiring Priority 5 vouchers.
This much-heralded increase will alleviate the strain to families created after Mayor Bloomberg, in his final year, ended the issuance of new Priority 5 vouchers that provided child care for families leaving the welfare rolls post one-year transitional child care.
UJO worked closely with Councilman Levin and was assisted by Councilman Chaim Deutch, Chair of the Jewish Caucus and the Council Finance team, to request additional funding to reach the level of vouchers during the start of the current administration.
A month ago, Rabbi David Niederman, UJO President, joined a meeting with Councilman Levin's staff, Councilman Chaim Deutsch and Councilman Kalman Yeger at City Hall, with the very hard-working and very close aide mayor de Blasio Mr. Lincoln Restler, who works so hard for all communities and has a keen understanding and feeling to the community's needs, and representatives from ACS, OMB and City Council Finance staff, to discuss the restoration of the lost priority 5 vouchers.
Councilman Levin also organized a letter – co-led by Councilman Deutsch and signed by 18 council members asking for the restoration of the vouchers to the 2014 level and to secure permanent funding for this level.
Today's announcement, will add services to thousands of children in the coming months and will bring the total funding to for the SCCF Child Care Vouchers to $99.4 Million within four years.
"We are elated that today's handshake on the budget, is extending a helping hand to thousands of needy children and families! We are indebted for Councilman Steve Levin for his leadership on this," says Rabbi David Niederman, UJO President, "for establishing and championing the SCCF vouchers. Today's achievement was only able thanks to the compassionate leadership by Speaker Corey Johnson leading the negotiations to bring this to fruition. All hardworking New Yorkers are grateful to you."
"We are very grateful to Councilman Deutch for joining the advocacy on this issue. We are thankful as well to Councilman Yeger for joining the efforts, and to all the Council members who signed the letter including Council Majority Leader Laurie Cumbo; Council Member Ben Kallos; Council Member Robert Cornegy; Council Member Helen Rosenthal; Council Member Vanessa Gibson; Council Member Mark Treyger; Council Member Margaret Chin; Council Member Justine Brannan; Council Member Rafael Espinal; Council Member Brad Lander; Council Member Inez Barron; Council Member Alan Maisel; Council Member Alicka Ampry-Samuel; Council Member Carlina Rivera; and Council Member Carlos Menchaca. Last, but most important, we are thankful to the Mayor and his administration for reverting the unjust trend of losing support for hardworking families, and increasing funding for these vouchers now and going forward. A special shout-out goes to a dear friend, Lincoln Restler, for his assistance throughout this process."
(YWN World Headquarters – NYC)