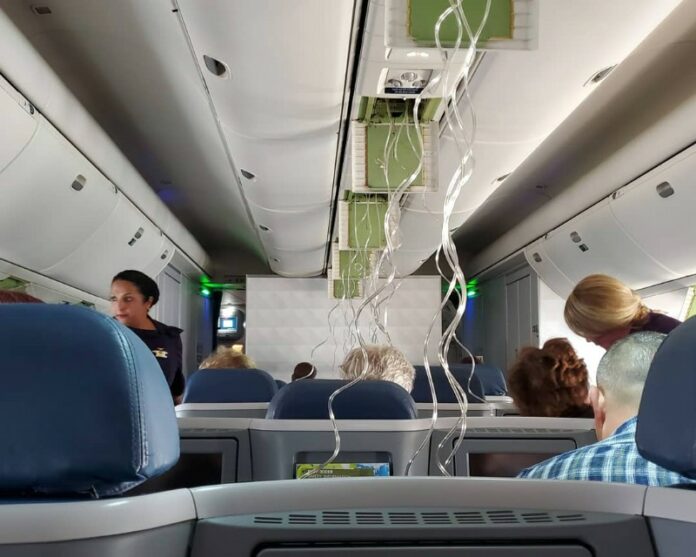 On Wednesday afternoon, Delta Air Lines diverted an Atlanta flight headed to Florida after an unknown issue caused the cabin's oxygen masks to be released. The pilot had to make a rapid, controlled descent of nearly 30,000 feet after getting an alarm.
The Fort Lauderdale-bound Boeing 767 made an emergency landing at Tampa International Airport about an hour after it left Hartsfield-Jackson Atlanta International Airport.
A statement by Delta says the plane was diverted out of an abundance of caution over the "cabin pressure irregularity." It says the plane is now being evaluated by maintenance technicians. Delta said the passengers were bused about four hours to their original destination.
*****SIGN UP NOW —- GET YOUR NEWS IN RECORD TIME***** Make sure you are one of the more than 22,000 that signed up to YWN WhatsApp Status to receive news in live time. Click this link – or send a message to 1-888-4-YW-NEWS (888-499-6397) – to see our status posts*****
SO SCARY: A Delta flight from Atlanta plunged nearly 30,000 feet ➡ https://t.co/LRzXYshaS8 pic.twitter.com/LgzeK78sEB

— AJC (@ajc) September 19, 2019
@Delta Flight 2353 God Bless the Captain and crew. Had an emergency midair from Atlanta to Fort Lauderdale. Oxygen masks deployed and we descended quickly and we're diverted to Tampa. I texted my wife and dad I loved them. Told my mom I love her and hugged my son. @wsvn @cbs12 pic.twitter.com/C9QcU9DbYV

— J.T. (@BrutusOsceola) September 18, 2019
(YWN World Headquarters – NYC)