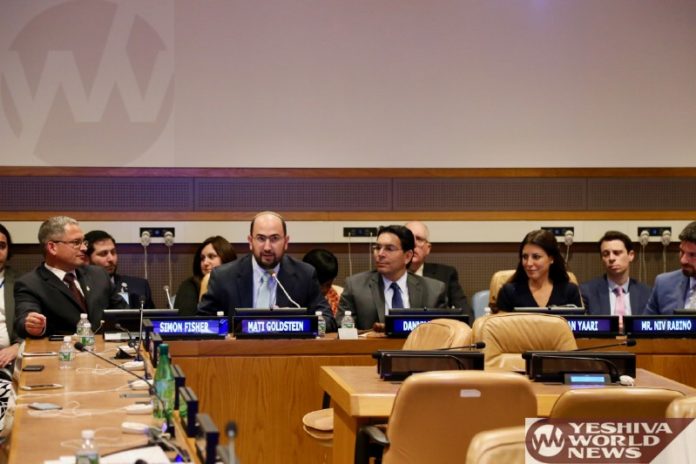 ZAKA Search and Rescue was selected as one of four Israeli NGOs to participate in a special session of the UN Committee on NGOs, hosted by Israel's Mission to the United Nations. The forum, which took place last week, celebrated seventy years of Israeli civil society innovation and their contributions to the world. Ambassador Danny Danon opened the event with celebratory remarks, followed by presentations from four Israeli NGOs that are bettering the world.
ZAKA International Rescue Unit Chief Officer Mati Goldstein presented the far-reaching scope of ZAKA's humanitarian international rescue work at mass casualty incidents (MCI) around the world, from major natural disasters in, among others, Haiti, Japan, Nepal and Mexico, and at international terror attacks including, among others, Mumbai, Istanbul and Paris. As a UN-recognized NGO with trained and equipped volunteers in over 20 countries around the world, ZAKA is able to send a swift and professional response to a MCI, as well as share best practices with international search and rescue teams.
"As we mark seventy years since the founding of the State of Israel, we recall with great pride our country's commitment to helping others live a better life. We have committed ourselves to this cause since the birth of our state," Ambassador Danon said in opening the event. "We recognize these organizations valuable contribution to the work of the UN and the realization of its 2030 Agenda and the Sustainable Development Goals," Ambassador Danon said.
ZAKA International Rescue Unit Chief Officer Mati Goldstein: "It was a great honor for ZAKA to be selected among four Israeli NGOs to celebrate Israel's contributions to civil society in its 70th anniversary year. Guided by our belief that all mankind was made in the divine image, we are committed to saving lives and honoring those who cannot be saved – regardless of religion, race or creed – wherever and whenever disaster strikes."
Goldstein ended his presentation with a call to all humanitarian NGOs to join ZAKA's campaign to ensure the immediate return of the bodies of Lt. Hadar Goldin and Sgt. Oron Shaul (as well as the return of Avera Mengistu), in keeping with international humanitarian law and the Geneva Conventions. "This is a purely humanitarian issue, completely devoid of politics or other interests," noted Goldstein. "This is the most basic of needs – for a parent to bury a child, with love and dignity. As a leading UN-recognized international humanitarian volunteer organization whose main goal is to honor victims with a dignified burial, ZAKA is planning a mass rally in the coming months, aimed at increasing public pressure on the UN to demand the return of the two soldiers' remains."
In addition to ZAKA, which provides lifesaving search and rescue assistance in mass casualty emergencies worldwide and holds consultative status with the United Nations Economic and Social Council (ECOSOC) the other NGOs included Save a Child's Heart, an NGO dedicated to improving pediatric cardiac care for children in developing countries; Innovation Africa, a non-profit using solar energy to provide clean water, light and refrigeration for vaccines and medication to schools, orphanages and medical clinics; and ISRAID, Israel's life-saving disaster relief organization that offers long-term support for refugees.
Photo: ZAKA International Rescue Unit Chief Officer Mati Goldstein (left) Israel Ambassador to the UN Danny Danon (right). Courtesy
(YWN Israel Desk – Jerusalem)