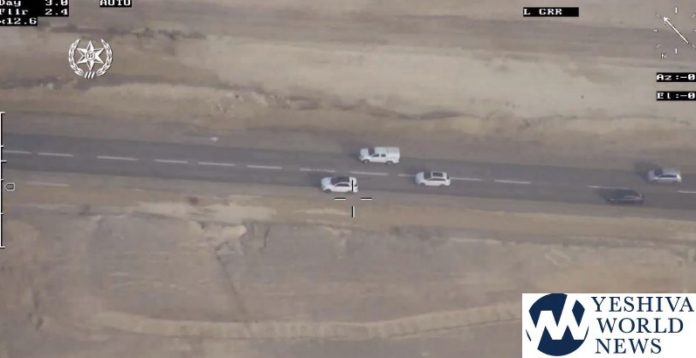 Police have charged three drivers with 26 offenses as they drove recklessly hundreds of Kilometers from Eilat towards Jerusalem. The group showed total disregard for human lives as they forced people off the roads at incredibly dangerous speeds.
Police say that on November 29, they conducted air and ground-based operations that included the integration of undercover police teams and police helicopters against convoys of vehicles traveling together and carrying out life-threatening offenses. The operation is placing emphasis on Route 90, which recently resulted in the deaths of 18 people.
During the course of the operation, police followed a convoy of vehicles traveling from Eilat towards Jerusalem, with the three vehicles performing more than 26 life-threatening offenses – including crossing a solid line, travelling at a speed of 244 KPH (151 MPH), and forcing vehicles in the opposite lane have to veer into the shoulder to avoid a head-on collision.
A roadblock was set up, where the three drivers (20-30 years old) were arrested for questioning.
Additionally, police have the dash-cam footage from all 3 vehicles and have documented evidence of the entire trip – in addition to police chopper footage.
The Jerusalem District Court extended the detention of the suspects.
Sources confirm to YWN that the vehicle were part of the Rabbi Berland motorcade.
Berland's motorcades have been in multiple accidents and frequently show total disregard for all traffic laws.
In November, YWN published about a vehicle in the motorcade which overturned off the road. Video footage published by YWN showed the motorcade driving recklessly moments before the crash. That was just days after the entire Atar family (mother father and 8 children) were burned alive in a horrific crash on the same road.
Berland's motorcade also struck two people in Bnei Brak this year.