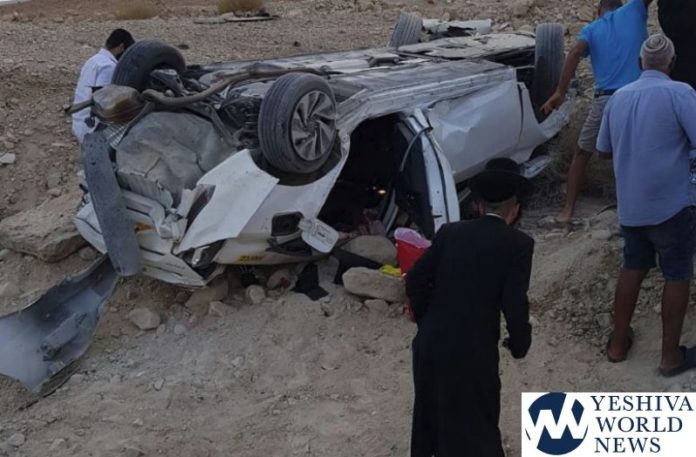 (VIDEO & PHOTOS IN EXTENDED ARTICLE)
A third major accident has occurred on Route 90, a short few hours following a crash between a minibus and a truck, resulting in the deaths of six Palestinians. According to a Kikar Shabbos News report, this crash involves the vehicular convoy of Rabbi Eliezer Berland. The car was totally destroyed, but B'chasdei Hashem, there is no loss of life.
EMS personnel report this accident occurred at Masada Junction near the Dead Sea hotels. They responded to a report of an overturned vehicle with passengers trapped inside.
Magen David Adom reported that three of the victims sustained light injuries and two were listed in moderate condition at the time of transport from the scene. The vehicular convoy was traveling towards Eilat.
A chopper was dispatched to the scene by MDA along with advanced life support and basic ambulances. Two persons, in their 20s, were treated with upper body injuries, and listed as moderate.
Footage of the motorcade driving minutes before the crash was obtained by YWN and is posted below. The cause of the accident is under investigation.
Just last week, the members of the Atar family of Psagot were killed in a head-on condition on the same road. The entire family was R"L burned alive in the crash, parents in their 40s and their six children.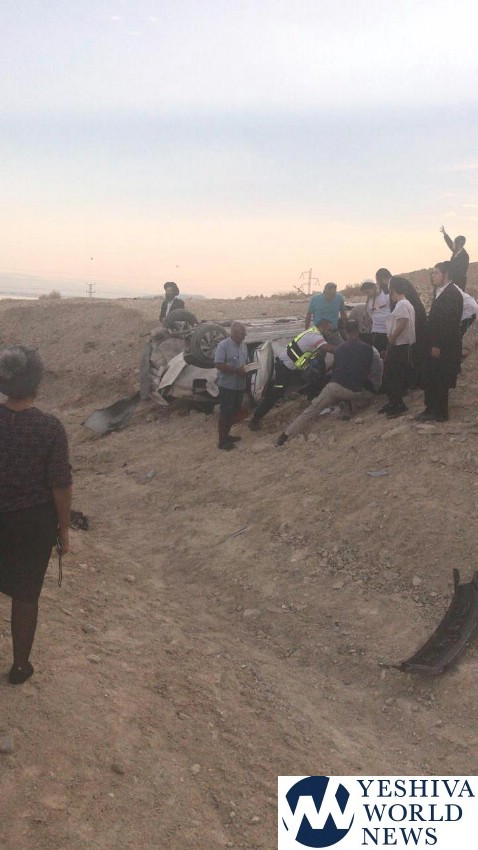 (YWN Israel Desk – Jerusalem)