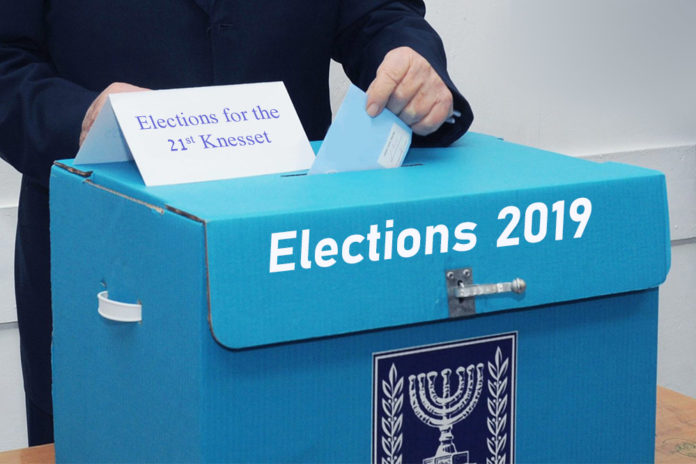 Elections for 22nd Knesset are scheduled for Tuesday, September 17, 2019, in five weeks, and according to all polls to date, neither the right-wing/chareidi or left-wing/centrist blocs will have enough votes to form a coalition government. The Yisrael Beitenu party, which is chaired by MK Avigdor Lieberman, will according to the various polls will receive 9-11 seats.
A poll conducted on Monday indicates that if elections were held today, Likud would remain the largest party with 30 seats, followed by the Blue & White party with 29 seats.
Likud 30
Blue & White 29
Arab List 11
URWP 11
Yisrael Beitenu 10
Yahadut Hatorah 8
Shas 7
Labor/Gesher 7
Democratic Israel 7
The parties which do not enter Knesset, failing to reach the minimum election threshold of 3.5%; include Zehut with 2.9%, and Otzma Yehudit with 2.7%.
Blocs
Right-wing/chareidi 56
Left-wing/centrist 54
As reported above, without Yisrael Beitenu, neither bloc will be capable of gathering the minimum required number of votes to form a coalition government, 61.
Who is most suited to be prime minister?
41% Netanyahu
32% Gantz
21% neither of them
6% do not know
Based on this latest poll, if Zehut and Otzma Yehudit do not enter Knesset, some 200,000 right-wing votes will be trashed, enough for about five or more additional seats, which is enough to bring the right-wing bloc to 61.
The poll was commissioned by News12 and conducted by Midgam Institute headed by Manu Geva. The poll took place on August 12, 2019 between 9AM and 8PM, polling a cross-section of eligible Israeli voters 18 and older. 508 persons responded in addition to 152 persons planning to vote for Likud.
The margin of error is +/- 4.4%. Standard statistical methodology was used to conduct the poll.
(YWN Israel Desk – Jerusalem)