Members of the Badatz Eida Chareidis, headed by HaGaon HaRav Yitzchok Tuvia Weiss Shlita, have this week signed a harshly-worded letter prohibiting followers from participating in the upcoming election for 22nd Knesset.
This according to some represents the Eida 'turning up the volume' regarding its long-time opposition to participating in Israeli elections.
The letter adds that anyone participating in election is in actuality, fighting against the Torah HaKedosha and tradition.
"המשתתף בבחירות אלו נותן יד לפושעים ועליו לדאוג מאחריות השתתפותו בבית המינות, המחרף ומגדף מערכות אלוקים חיים. ולוחם נגד תורתינו הקדושה והמסורה".
Signatories include Rav Weiss, Ravaad HaGaon HaRav Moshe Sternbuch, HaGaon HaRav Ulman, HaGaon HaRav Rosenberger, HaGaon HaRav Yurovitz and HaGaon HaRav Fisher.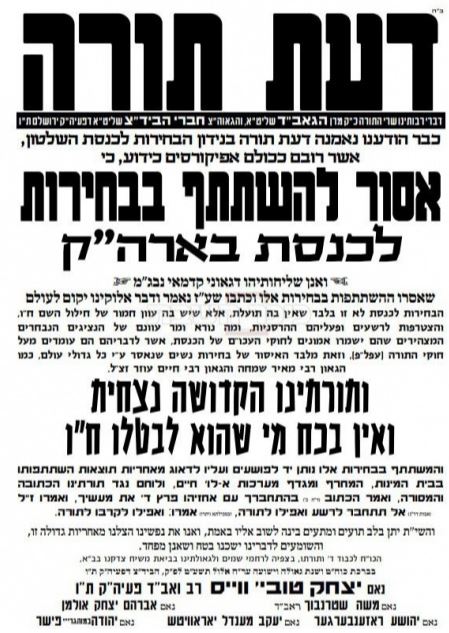 (YWN Israel Desk – Jerusalem)