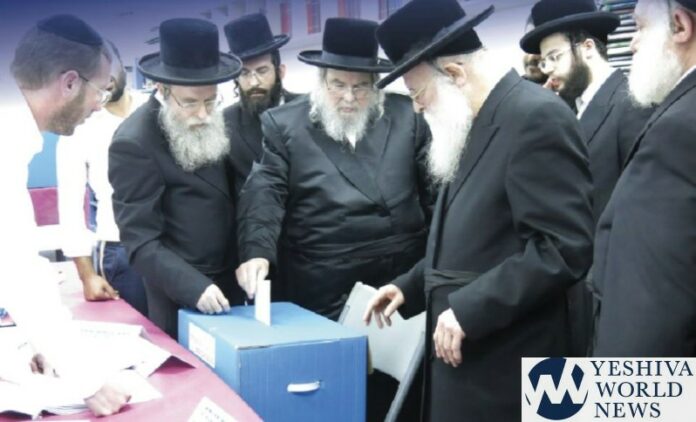 The Belzer Rebbe voted for the first time in his life on Tuesday.
The Belzer Rebbe has refrained from voting until now due to the fact that his uncle, Rav Aharon, the previous Belzer Rebbe, never voted although he always instructed his chassidim to vote.
A source told B'Chedrei Chareidim that the Belzer Rebbe decided to vote in the wake of the severe incitement against Chareidim in Israel which is the worst since the founding of the state, the growing incitement of [Blue & White leaders] Yair Lapid, Benny Gantz and [Yisrael Beiteinu chairman Avigdor] Liberman and the heightening danger to the Torah world.
*****WANT ELECTION UPDATES IN LIVE TIME? SIGN UP NOW TO YWN STATUS UPDATES ON WHATSAPP***** More than 23,000 signed up to YWN WhatsApp Status to receive news in live time. Click this link – or send a message to 1-888-4-YW-NEWS (888-499-6397) – to see our status posts*****
On Tuesday morning, the Rebbe surprised his shamash, R' Michel Firer, by asking him to check which polling station he is registered for. The shamash did as asked and the Rebbe went to the Zichron Yaakov polling station, where he joined his chassidim in casting a vote. The event was a cause of great excitement in the Chassidic world.
Furthermore, the Belzer representative in the Knesset, MK Yisrael Eichler, was called to come as fast as he can to the Rebbe's house. Eichler, who was on a tour of polling stations in Ashdod did as he was instructed. The Rebbe wished to talk with him about the surprisingly high voter turnout.
Earlier, after Shacharis, the Rebbe instructed his Gabbai to tell the chassidim, both in Israel and throughout the world, that they add another kapittel of Tehillim to the customary ones they recite every morning in Elul – specifically Perek 121: "I lift my eyes to the mountains. From where will my help come? My help is from Hashem…"
The chassidim said that when they began reciting the Tehillim, the Rebbe suddenly bowed his head on the table for several minutes until he finished reciting the perek. One of the chassidim said: "It was a frightening sight. We saw how fearful the Rebbe was due to the current situation."
Rav Aharon Mordechai Rotner, an elderly and venerated Mekubal in Yerushalayim who knew the previous Belzer Rebbe, is scheduled to daven at the Rebbe's kever in a special tefillah on Tuesday evening for those who are voting for the first time in Tuesday's elections. By early afternoon, over 400 chassidim had called the hotline to add their name to the list.
(YWN Israel Desk – Jerusalem)