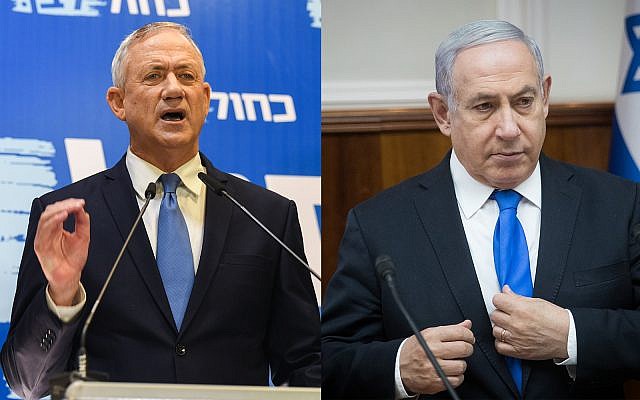 The Central Elections Committee has released official results after 95% of the ballots have been counted. Blue and White is slightly ahead of Likud, while the left-wing bloc is edging the right-wing bloc.
Blue and White – 33
Likud – 32
Arab Joint List – 12
Shas – 9
Yisrael Beytenu – 8
Yahadut Hatorah – 8
Yamina – 7
Labor-Gesher – 6
Democratic Camp – 5
Left-wing bloc (with Arabs): 56
Right-wing bloc: 56
Yisrael Beytenu: 8
*****WANT ELECTION UPDATES IN LIVE TIME? SIGN UP NOW TO YWN STATUS UPDATES ON WHATSAPP***** More than 23,000 signed up to YWN WhatsApp Status to receive news in live time. Click this link – or send a message to 1-888-4-YW-NEWS (888-499-6397) – to see our status posts*****
Blue and White: 32
Likud: 31
Joint List: 13
Shas: 9
United Torah Judaism: 8
Yamina: 7
Labor: 6
Democratic Camp: 5
Left-wing bloc: 56
Right-wing bloc: 55
Yisrael Beytenu: 9
Once again, this is not final, and in addition, beginning on Wednesday evening, the Central Election Committee must begin counting over 250,000 votes, including the votes of IDF soldiers, prisoners and disabled persons, the so-called 'double envelopes'.
According to the director-general of the Central Elections Committee, Orly Addis, these votes will count for seven additional seats. She emphasized "the final determination will only be made next week".
The IDF Spokesman's Office reported on Wednesday morning that the voter turnout in the IDF was 70.7%. Because of operational need, the voting in the military took place on motzei Shabbos, 14 September. In addition, about 10% of those serving in the IDF today voted in civilian polling stations.
7:45AM IL: At present, Likud and Blue & White are tied with 32 seats each, leaving the situation without either of the parties being able to form a coalition government by reaching the minimum number of seats required, 61.
The easier scenario is that Likud (32) gets together with Yahadut Hatorah (8) and Shas (9), as well as with Yemina (7), for a total of 56 seats. His options now are to persuade Avigdor Lieberman and his Yisrael Beitenu party (9) to join his coalition for a total of 65 seats. Another option is to persuade Amir Peretz and the Labor/Gesher (6) seats to enter the coalition, for a total of 62.
If the presidential mandate is given to Benny Gantz and his Blue & White party (32), he will first move to include Labor/Gesher (6) and the Democratic Camp (5) for a total of 43. His next option is the Joint Arab List (12) for a total of 55, but in essence, even if the Arabs agree to join a coalition government, the two-seat Balad party is not going to sit with three former IDF chiefs of staff, leaving Gantz with 53.
Hence, Gantz must bring Lieberman on board so his chances of building a coalition are not too good the way things appear.
Further complicating matters is the fact that Lieberman has already called on President Reuven Rivlin to call both Netanyahu and Gantz for informal talks, even before the official announcement of the election outcome, towards forming a national unity coalition government including both large parties, which is what he explains is the situation he supports. He has not stated if he will join either larger party without the other.
(YWN Israel Desk – Jerusalem)