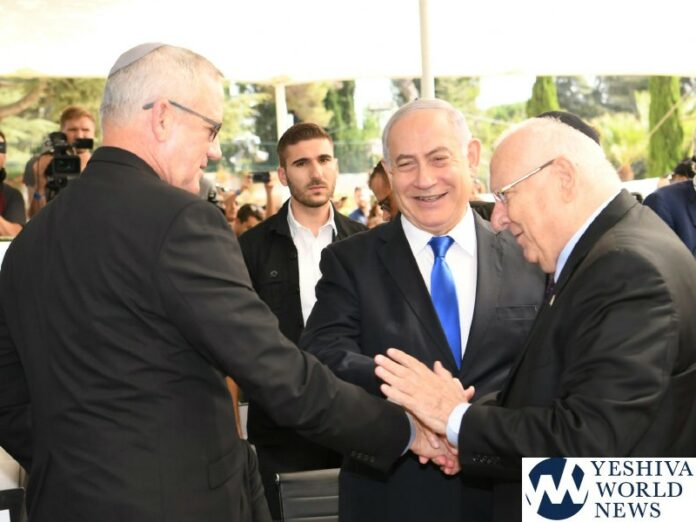 The leaders of the Blue & White party announced on Thursday they were unwilling to accept Prime Minister Binyamin Netanyahu's call to sit and meet towards establishing a broad-based national unity coalition government. The Prime Minister on Thursday called on "Benny" in his reference to Blue & White chairman, MK Benny Gantz.
Earlier in the day, Netanyahu and Benny Gantz were photographed shaking hands and talking warmly at a memorial held in Yerushalayim for former PM Shimon Peres.
Netanyahu had also released a video statement on Thursday calling on Gantz to join a unity government that he would form. He said he was willing to meet "anytime, anyplace, to discuss forming a unity government"
The party responded, with an official telling Galei Tzahal (Army Radio) they speak in the name of Gantz, citing the offer made by PM Netanyahu was nothing more than a "media stunt" and that he is working to set the stage for yet a third round of voting, well-aware that he lost the election and unable to form his own coalition.
*****WANT ELECTION UPDATES IN LIVE TIME? SIGN UP NOW TO YWN STATUS UPDATES ON WHATSAPP***** More than 23,000 signed up to YWN WhatsApp Status to receive news in live time. Click this link – or send a message to 1-888-4-YW-NEWS (888-499-6397) – to see our status posts*****
[SO WHAT HAPPENS NOW? Israeli Elections 2019 #2 for Dummies]
The number two man on the Blue & White list, MK Yair Lapid, stated Mr. Netanyahu is dragging the nation to another election because he cannot accept the loss. This is the goal of the media spins and when his people do not support him, he tries to change his people.
ח"כ @yairlapid: "נתניהו מנסה לגרור את ישראל למערכת בחירות שלישית. זו מטרת כל הספינים שהוא זורק לאוויר בשעות האחרונות". את הדברים אמר במסיבת עיתונאים של כחול לבן • צפו pic.twitter.com/19G8uEL2It

— חדשות 13 (@newsisrael13) September 19, 2019
Party leader Gantz decided to respond publicly as well after senior party officials told the media there was no deal to be made with Netanyahu. MK Gantz told the press he is willing to establish a broad-based national unity coalition government which he will lead. He made his comments during the opening of a faction meeting.
He added, "It is fitting that we all place the good of the nation before all other considerations…" He added that according to the Central Elections Committee, his party received 33 seats, making it the largest party.
"The nation wanted national unity following the last election" added Gantz, a broad-based liberal coalition, citing the party will not respond to any dictate.
"Negotiations will require patience and determination – without shortcuts. The government that will be established must be effective and have the ability to be in control. Political paralysis will not benefit Israel's citizens…"
Gantz insists the prime minister is working to "drag Israel to elections again".
גנץ עונה בתקיפות להצעת רה"מ להקים ממשלת אחדות: כחול לבן ניצחה בבחירות, אני אקים את הממשלה pic.twitter.com/gKVuRuGSR5

— כאן חדשות (@kann_news) September 19, 2019
MK Avigdor Lieberman immediately responded, calling the prime minister's statements "deceptive". He insists this is nothing more than political posturing to bring Israel to a third election for Knesset amid the realization his election bid failed.
Lieberman criticized the coalition partners of Netanyahu; including Shas, stating the coalition is not right-wing. Lieberman reminded the nation that Shas abstained in the vote for the Oslo Agreement. Lieberman feels another coalition partner are the "Messianics who wish to implement a state back to the days of David HaMelech, Torah laws, and to turn universities into schools for prophecy. Netanyahu gave away Hebron to Arafat and voted in favor of the expulsion from Gaza. He certainly is right-wing but a plain nudnik".
Lieberman released a public call to Netanyahu, "to stop the playing around and politics and other maneuvers".
Mr. Netanyahu is aware that he will not likely succeed in establishing a right-wing government, as Avigdor Lieberman announced he will only enter a broad-based national unity coalition government. That being the case, the right-wing/chareidi bloc lacks six seats for a simple majority. Therefore, the prime minister realized negotiating with Gantz remains his only option.
However, Gantz has stated on numerous occasions that while he would talk with Likud, he would not enter into a coalition for as long as PM Netanyahu heads the party due to the numerous criminal investigations against him and the likelihood that he will face criminal indictments.
(YWN Israel Desk – Jerusalem)