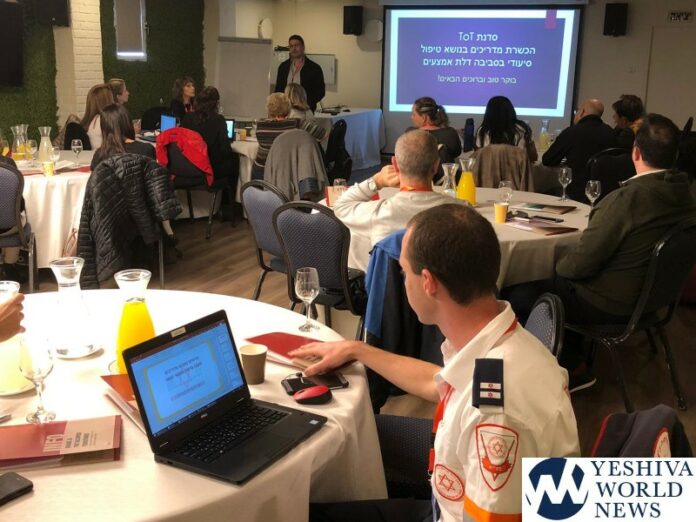 Magen David Adom, the International Committee of the Red Cross and Ministry of Health, Trained Hospitals' Nurses from Around the Country to Treat Injured in a Disaster Scenario
This week, teams of Magen David Adom and experienced nurses have trained senior nurses from 12 hospitals around the country to become trainers, later to train their hospital staff on the management of the injured in the event of a disaster scenario, such as an earthquake. This is an innovative training program, within which the nurses discussed work outside the hospital building, in the absence of advanced medical equipment, water and electricity.
Senior MDA paramedics, who have extensive experience in treating injured in the field and disaster scenarios in Israel and around the world along with senior nurses from hospitals trained the nurses, focusing on providing medical care in the hospital's open space. Additionally, emphasis is placed on storing essential equipment outside the hospital building.
The program, the first of its kind in the world, was developed by Magen David Adom, the International Committee of the Red Cross, Directorate of Nursing and Emergency Management Division of the Ministry of Health. The dozens of senior nurses who completed the training will continue to train other medical and administrative staff in the hospitals, while continuing cooperation with the Ministry of Health and MDA.
Senior paramedic in MDA Asaf Chen is one of the medical personnel who delivered the training this week. Assaf has participated in many MDA delegations to help with natural disasters around the world, and among others, provided medical treatment for victims of the earthquakes in Haiti in 2010 and Nepal in 2015. "We are well acquainted with the field of providing medical response under conditions that, among other things, occur after natural disasters" said paramedic MDA member Asaf Chen. "With the experience we collected around the world, we have built the innovative program, together with the Ministry of Health and with the International Committee of the Red Cross, all in order to improve the State of Israel's preparedness to provide medical response in disaster situations."
"As part of the innovative plan, a situation has been practiced in which a natural disaster is occurring in the State of Israel, which, as it usually does, is adversely affected," explained MDA disaster management director Chaim Rafalowski. "The goal is to use the vast knowledge accumulated in Magen David Adom and in the international Red Cross movement, over the years, and pass it on in Israel, in order to be optimally prepared for any situation. The plan is another pillar of the ongoing activities of the Ministry of Health, Magen David Adom and the International Committee of the Red Cross, to improve the State of Israel's readiness to deal with the results of a devastating earthquake, an activity we have been engaged with for many years. "
MDA Director General Eli Bin: "Magen David Adom has gained considerable experience over the years in providing medical assistance in disasters that have occurred in various countries around the world. We hope that we will not be required to do so, but we are prepared for any scenario that may happen in the State of Israel. Within the framework of the program, the only one of its kind, which we have developed together with the Ministry of Health, the Director of Nursing and the International Committee of the Red Cross, we convey the knowledge we have gained in providing medical treatment in complex scenarios with multiple casualties in the field, to nurses from hospitals across the country. I thank all the parties who took part in this important project."
(YWN Israel Desk – Jerusalem)